Download



Tridium Niagara Framework
Niagara 4 is a powerful, open IoT platform that normalises data from any protocol. Making it the perfect place to start your integration project.
AN ALL-NEW USER INTERFACE
Niagara 4 features a bold and intuitive new interface. Modern and easy to use, the platform utilizes HTML5 to provide an array of rich features.
MOVING NIAGARA TO THE EDGE
Niagara 4 is available on the Niagara Edge 10 controller and has been ported to a variety o fpartner-branded IP-based controllers. As a result, users have choice and great advantages ina single-tool infrastructure from edge to cloud.
EASIER INTEGRATION
Niagara 4's new templating feature enables tags to be applied to devices quickly, and allows applications to be prebuilt against a set of standardized templates which then can be quickly created and reused.
POWERFUL SECURITY
Niagara 4 takes a "defense-in-depth" approach to Internet of Things security. Building on the security of previous Niagara versions, Niagara 4 is secure by default. Authentication requires users to choose strong credentials, and both data in motion and sensitive data at rest are encrypted.
FAST & POWERFUL DEVELOPMENT
Developers will find improved documentation, a rich open API library, BajaScript 2.0, semantic data modeling via tags and other ready-made tools to greatly speed and support development.
MORE DATA AT YOUR FINGERTIPS
With a simple point-and-click or drag-and- drop, users can instantly fi nd and display critical information from their desktop, tablet or mobile device.
Explore our Niagara 4 products

Get certified

One Sightsolutions are the FIRST and LARGEST UK accredited Tridium training partner
Our 3x BCIA Award winning live/instructor-led online Tridium Niagara 4 training enables our customers to operate more efficiently, deliver fantastic projects, and deliver them faster. We are now excited to be the FIRST training centre to offer a Remote version of the FULL 5-Day TCP Course with exam on the Friday, delivered completely remotely from the comfort of your own home.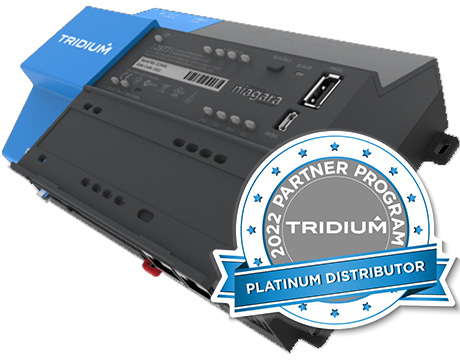 Discover more about Niagara