Download



Want more information or alternatives to a product? Call us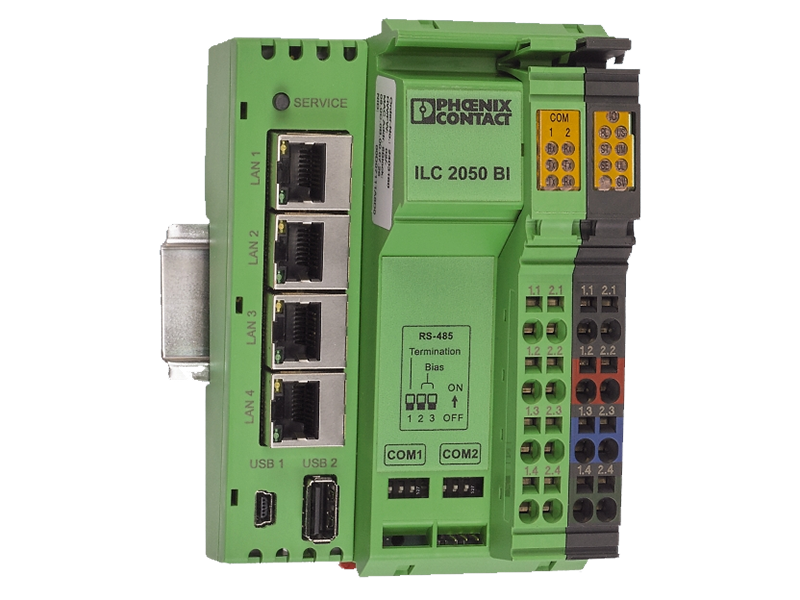 Phoenix Contact ILC 2050 BI

Go beyond building automation with the ILC 2050 BI providing industrially hardened control and modular I/O running the Niagara 4 Framework.
The ILC 2050 from Phoenix Contact offers robust and high-speed control for the most demanding applications, equipped with two logically separated IP address interfaces each with 2 integrated Fast Ethernet ports
Point options available: 100 | 250 | 500 | 1250 | 5000 | 10000
Product Description
Features
Maximum flexibility from a large variety of I/O modules
Connect up to 63 I/O modules on the local bus
Special function modules provide support for DALI, MP-Bus and M-Bus
Cost saving
Integrated Ethernet switch saves costs of external switches and functions as an internal router
No external Gateways required for fieldbus interfaces
Limited unused IOs
Multi-dimensional Flexibility
Modular I/Os with up to 2016 directly plugged channles
Multiple fieldbus interfaces types – no Gateways required
A universal platform enabling flexible framework selection based on the client needs
Running Niagara Framework 4 – but not limited to
A flexible licensing model
Flexible industrial I/O
The industrialised inline I/O system offers a wide range of digital, analog and special function terminals. The range offers the high performance and accuracy needed for the most demanding applications, while providing modularity for the most unique applications.
Modular I/O
The Inline I/O modular system provides the flexibility for an application to be designed with only the points needed, saving space and unnecessary connections. When a system needs to be expanded, modules can be easily added to the local bus, increasing the I/O count.
Advantages
Large range of analog, digital and special-funtion modules for maximum versatility for signal acquisition
Module auto-discovery and local bus configuration for simple commissioing
Modularity allows the mixing of modules to meet application needs
Module-to-module isolation increases the robustness and reliability of the system
Supporting Videos

You might also like