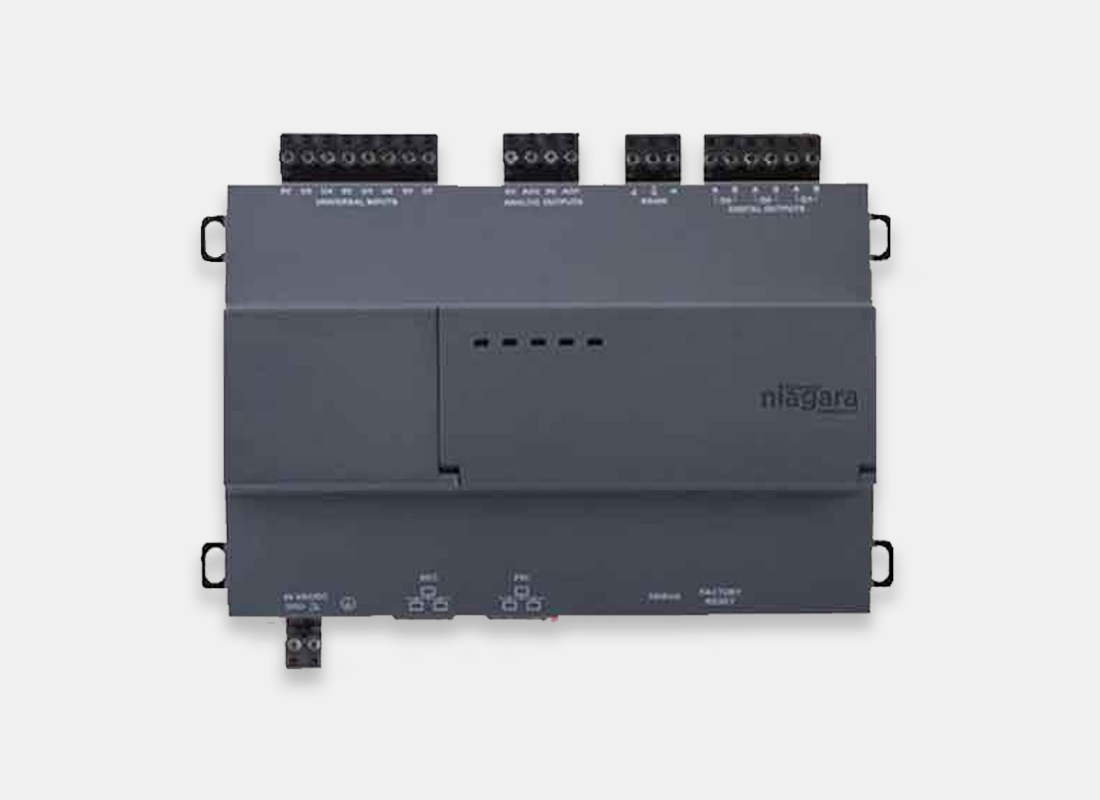 Niagara EDGE 10
Tridium's Niagara Edge 10 is an IP-based field equipment controller powered by the Niagara Framework®.
Niagara EDGE 10 controllers drive applications such as zone temperature control, and the operation of fan coil units, single stage air handling units, water-source heat pumps and more.
I/O Ready
Equipped with 10 points of onboard I/O
Niagara Edge 10 controllers run the full Niagara Framework stack, with 10 points of on-board IO and IO-R-34 expansion capability. Niagara Edge 10 licensing supports three devices and 50 total points to harness the full power of Niagara at the edge.
Hardware specs:
NXP iMX6 SoloX2: 800MHz ARM Cortex-A9/M4
512 MB DDR SDRAM
2GB total eMMC flash storage with user space set at 1GB
Powered from 24VAC/DC source
5 Universal input: Type 3 (10K) thermistors, 0-100K ohm, 0-10VDC, 0-20mA with external resistor, Dry Contact
2 Analog outputs: 0-10VDC, 4mA max output current
3 Digital outputs: Triac, 24VAC @.5 amp
2 10/100MB Ethernet ports capable of daisy chaining
1 RS-485 serial port
Real-time clock
Secure boot
Network
Niagara Edge 10 controllers can be daisy chained to continue network
connectivity and eliminate the need for separate wiring back to a switch.
Connect Niagara Edge 10 controllers to your main building or IT network
and manage them directly with a Supervisor alongside of a JACE®.
Use the secondary Ethernet port of the JACE 8000 to create a private
network of Niagara Edge 10 controllers.
Support mounting on EN50022 standard 7.5mm x 35mm DIN rail or panel mounting
One Sightsolutions are the first and largest Tridium partner in the UK. We stock an unrivaled range of Niagara controllers from the likes of Tridium, Phoenix Contact, iSMA and more. Including the JACE 8000, ILC 2050 and MAC 36 controllers.