Download



Want more information or alternatives to a product? Call us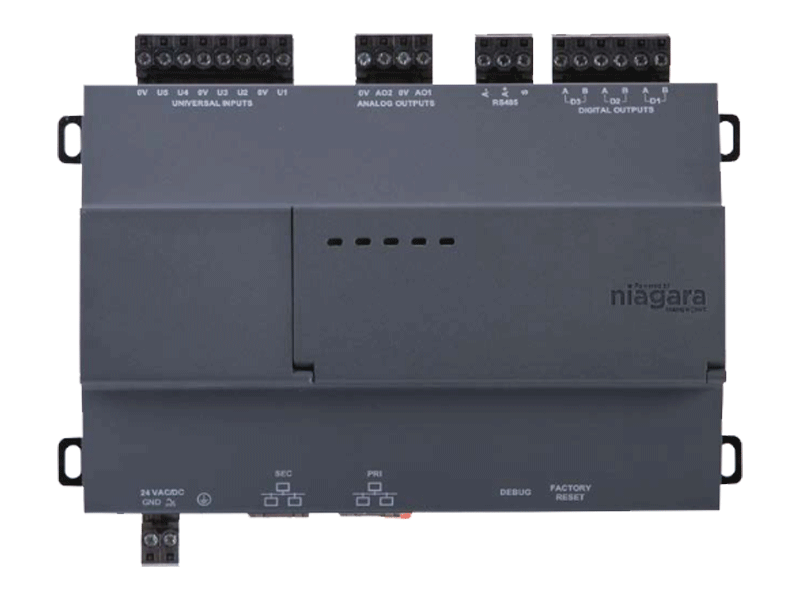 Tridium Niagara EDGE 10

Tridium's Niagara Edge 10 is an IP-based field equipment controller powered by the Niagara Framework®.
Niagara EDGE 10 controllers drive applications such as zone temperature control, and the operation of fan coil units, single stage air handling units, water-source heat pumps and more.
Connection: Counts as only 1/10 of a standard supervisor connection
Product Description
Niagara Edge 10 controllers run the full Niagara Framework stack, with 10 points of on-board IO and IO-R-34 expansion capability. Niagara Edge 10 licensing supports three devices and 50 total points to harness the full power of Niagara at the edge.
Hardware specs:
NXP iMX6 SoloX2: 800MHz ARM Cortex-A9/M4
512 MB DDR SDRAM
2GB total eMMC flash storage with user space set at 1GB
Powered from 24VAC/DC source
5 Universal input: Type 3 (10K) thermistors, 0-100K ohm, 0-10VDC, 0-20mA with external resistor, Dry Contact
2 Analog outputs: 0-10VDC, 4mA max output current
3 Digital outputs: Triac, 24VAC @.5 amp
2 10/100MB Ethernet ports capable of daisy chaining
1 RS-485 serial port
Real-time clock
Secure boot
Network
Niagara Edge 10 controllers can be daisy chained to continue network
connectivity and eliminate the need for separate wiring back to a switch.
Connect Niagara Edge 10 controllers to your main building or IT network
and manage them directly with a Supervisor alongside of a JACE®.
Use the secondary Ethernet port of the JACE 8000 to create a private
network of Niagara Edge 10 controllers.
Support mounting on EN50022 standard 7.5mm x 35mm DIN rail or panel mounting
Supporting Videos

You might also like