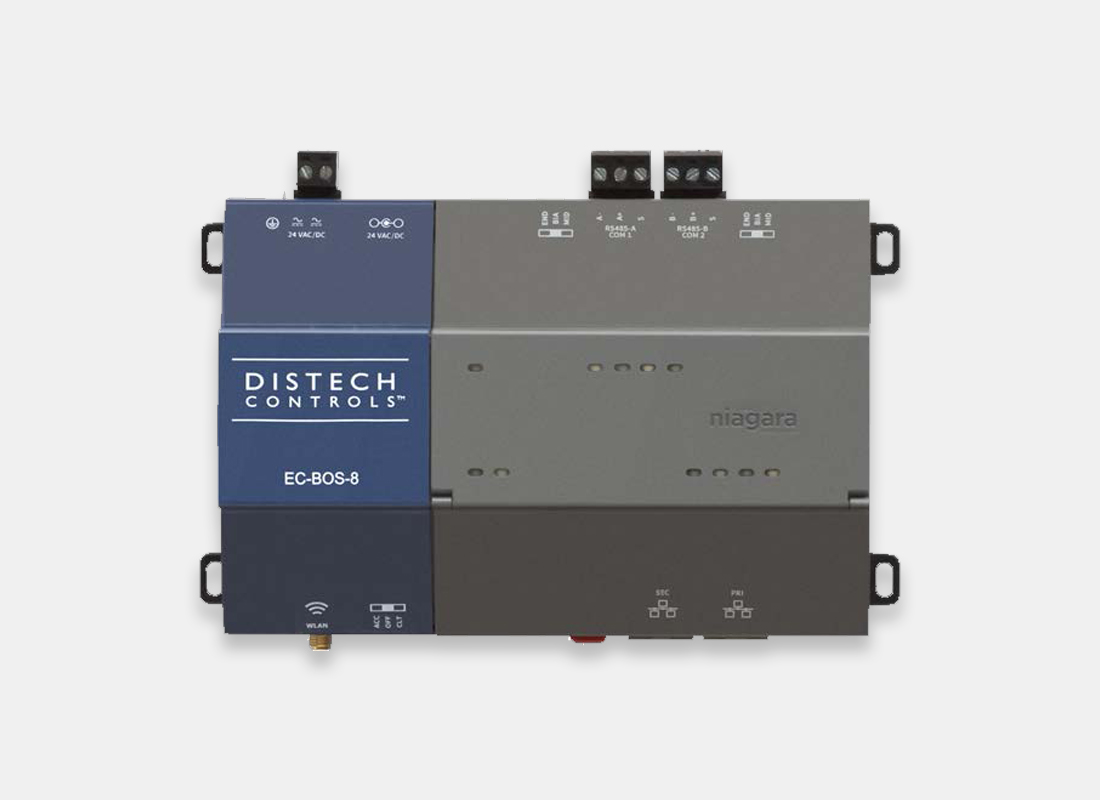 EC-BOS-8
The EC-BOS-8 is a compact, embedded controller and server platform for connecting multiple and diverse devices and sub-systems. With internet connectivity and web serving capability, the EC-BOS-8 controller provides integrated control, supervision, data logging, alarming, scheduling, and network management.
It allows integration of various field buses and communication protocols. The EC-BOS-8 controller operates with EC-Net 4 web-based building management platform.
Integrations
EC BOS 8 operates with EC-Net 4, the web-based building management platform powered by the Tridium Niagara Framework.

Features and Benefits
Scalable licensing model and modular hardware make the ECBOS-8 suitable for installation in small buildings, as well as large multi-unit campuses when combined with EC-Net Supervisor
Integrates many communication protocols and automation systems including HVAC, lighting, energy, fire & smoke, physical access, video and industrial/processing
Two on-board isolated RS-485 ports for connecting to various common networks, e.g. BACnet MS/TP, Modbus RTU, Wiegand access control devices
Option modules for additional physical network connections, e.g. LonWorks® FTT-10A, RS-232, RS-485, and Wiegand access readers
USB type A port for station backup and restore functions
Backward compatibility allows the EC-BOS-8 to run an EC-NetAX station (minimum requirement is 3.8.111)
One Sightsolutions are the first and largest Tridium partner in the UK. We stock an unrivaled range of Niagara controllers from the likes of Tridium, Phoenix Contact, iSMA and more. Including the JACE 8000, ILC 2050 and MAC 36 controllers.