Download



Want more information or alternatives to a product? Call us


Need help deciding which solution is right for you? Contact sales on 020 3744 9539

The Ultimate Niagara 4 UI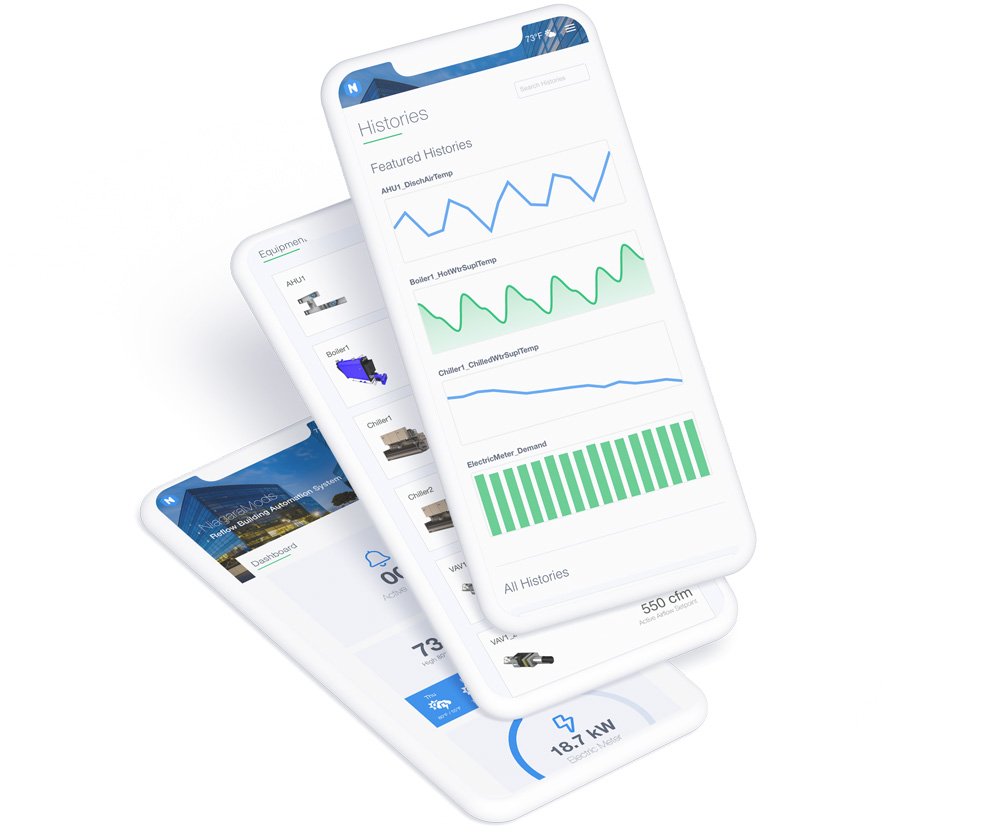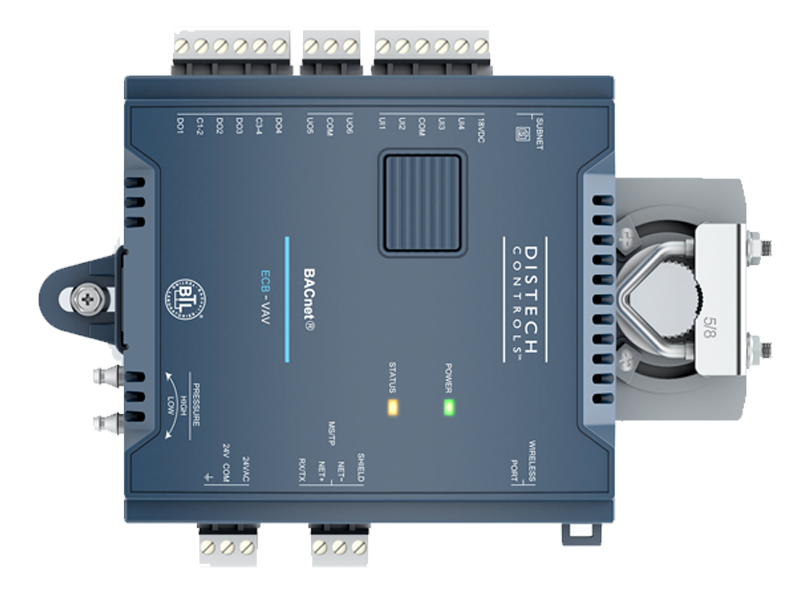 Distech Controls ECB-VAV

The Distech ECB-VAV Series controllers are microprocessor-based programmable variable air volume (VAV) controllers designed to control any variable air volume box.
Each controller uses the BACnet® MS/TP LAN communication protocol and is BTL®-Listed as BACnet Application Specific Controllers (B-ASC).
Protocol: BACnet B-ASC Single Duct VAV / VVT
Product Description
Overview
Pre-engineered configurable application selected from the EC-Smart-Vue communicating sensor or from EC-NetAX configuration pages for quick setup.

On-board drift-free and zero calibrated flow sensor reducing air flow balancing time

Built-in brushless DC motor actuator with intelligent damper control algorithm for extended actuator lifecycle and fast air flow balancing

5 models to cost effectively address all VAV applications

Universal inputs and outputs for maximum installation flexibility
15 VDC power supply to power 4-20mA transducers

1 calendar, 2 schedule, 8 loop (PID), and over 200 BACnet objects

Open-to-Wireless™ Solution: support of up to 18 wireless battery-less inputs

The ECB-VAV model supports the Smart Room Control Solution.

Built-in brushless DC motor actuator with intelligent damper control algorithm

Digital outputs (TRIAC) that support internal supply of 24 VAC, simplifying wiring of outputs such as floating actuators
On-Board Air Flow Sensor
The controllers (except for the VVTS model) are equipped with an accurate on-board air flow sensor for precise air flow monitoring and control at low and high air flow rates, allowing the design for maximum energy efficiency while maintaining an optimal comfort level The on-board air flow sensor has a range of 0 to 2 inches of water column (500 Pascal).
Built-in Actuator
A built-in actuator with a brushless motor and integrated position feedback system eliminates periodic damper re-initialization and ensures worry-free operation, providing increased occupant comfort and extended service life (except VAV-N models). The built-in actuator for precise damper positioning used for loads requiring up to 35 inchpounds (4 Newton-meters) of torque.
Optimized Air Balancing
Optimized air balancing process saves time during commissioning: the flow sensor requires no zero flow calibration, and its variable-speed motor goes to minimum and maximum flow position in half the time of typical VAV actuators.
Flexible Inputs and Outputs
This controller has various input types including resistance, voltage, and digital-based ones. Moreover, it provides digital, floating, pulse width modulation, and proportional control outputs for valves, heating elements, fans, and lighting applications. This controller covers all industry-standard HVAC unitary applications.
Highly Accurate Universal Inputs
Highly accurate universal inputs support thermistors and resistance temperature detectors (RTDs) that range from 0 Ohms to 350,000 Ohms, as well as support for inputs requiring 0 to 10VDC or 0 to 20mA with an external resistor. This provides the freedom of using your preferred or engineer-specified sensors, in addition to any existing ones.
Rugged Inputs/Outputs
Rugged hardware inputs and outputs eliminate need for external protection components, such as diodes for 12V DC relays.
Preloaded Applications
Factory preloaded applications allow these controllers, straight out of the box, to operate standard VAV equipment with a proven energy-efficient sequence of operation thereby eliminating the need for programming. The preloaded application can be selected using an Allure ECSmart-Vue sensor even before the network has been installed for rapid deployment or through the EC-NetAX™ solution using Distech Controls' dcgfxApplications.
Integrated VPACC
Integrated VAV Performance Assessment Control Charts (VPACC) control sequences, provides a means of automatically detecting when the VAV is operating outside of its design parameters including: Persistent High/Low Space Temperature, Persistent High/Low Discharge Temperature, Persistent High/Low Air Flow, and Unstable Air Flow
You might also like