Download



Want more information or alternatives to a product? Call us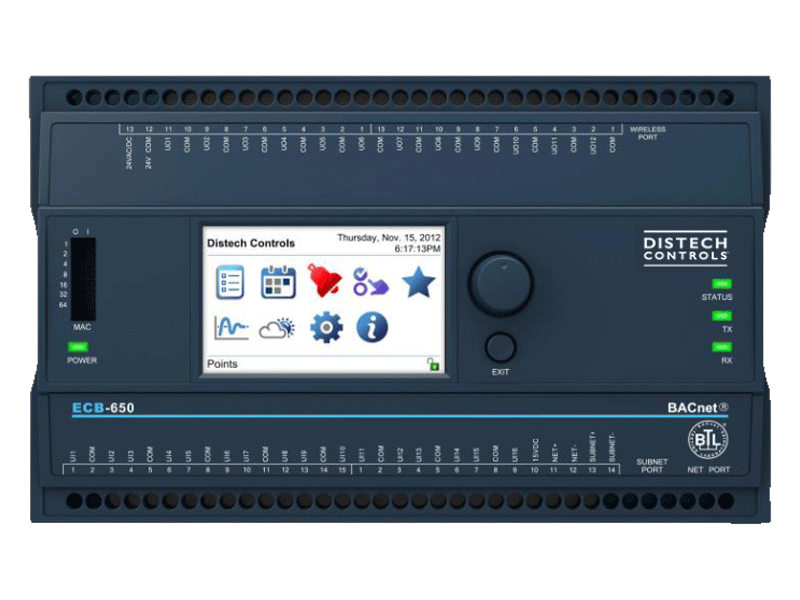 Distech Controls ECB-600

The Distech Controls ECB-600 Series controllers are microprocessor-based programmable controllers designed to control various building automation applications.
Controls air handling units, chillers, boilers, pumps, cooling towers, and central plant applications. This series supports up to two ECx-400 Series I/O extension modules.
Protocol: BACnet® MS/TP LAN communication protocol
Product Description
Overview
16 universal inputs including 4 for fast pulse counting and metering applications

Expandable I/O capabilities with up to 2 ECx modules for a total of 40 inputs and 36 outputs

Optional HOA switch with potentiometer to locally override and monitor overridden outputs

15 VDC power supply to power 4-20mA transducers

2 calendar, 10 schedule, 30 loop (PID), and over 300 BACnet objects
Internal alarm functionality

ECB-650 includes live graphics color display (integrated LCD operator interface)

Open-to-Wireless™ Solution: support of up to 28 wireless battery-less inputs
CO2 sensors
CO2 sensors as part of a demand-controlled ventilation strategy that adjusts the amount of fresh air intake according to the number of building occupants
Variable-frequency
Variable-frequency drives to adjust motor speed according to the instantaneous demand of the application.
Universal Inputs and Outputs
This controller has various software configurable universal inputs and software configurable universal outputs, and covers all medium to large-size industry-standard HVAC applications. This series supports up to two ECx-400 Series I/ O extension modules that operate off of a separate sub-bus, giving this controller a total of up to 40 universal inputs and 36 universal outputs.
HOA Switches & Potentiometers
Certain models have the convenience of supervised Hand-Off-Auto (HOA) switches and potentiometers that provide feedback on an operator's manual override of an output to the controller's code. HOA switches are ideal for testing purposes or when performing equipment commissioning and maintenance.
You might also like