Download



Want more information or alternatives to a product? Call us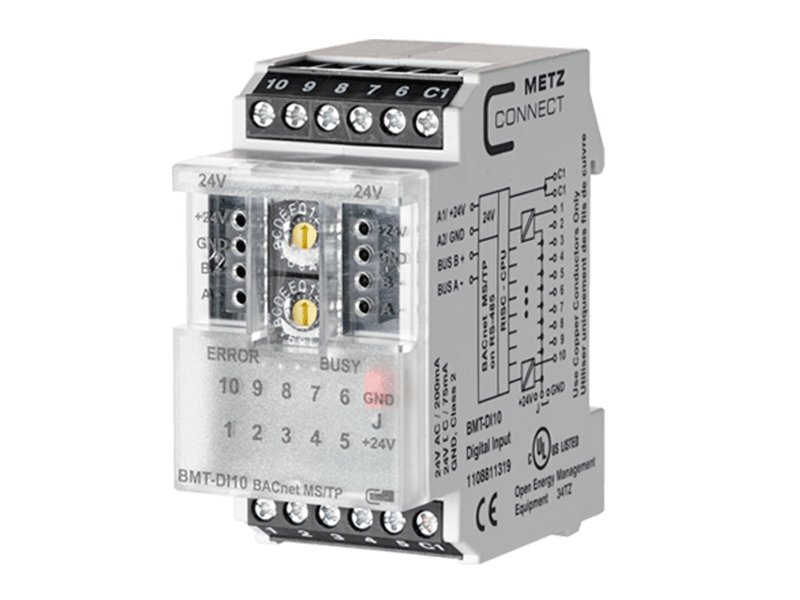 Metz Connect BMT-DI10

The Metz Connect BMT-DI10 is a BACnet MS/TP  IO module with 10 digital inputs was developed for decentralised switching tasks.
It is suitable for detecting potential-free switch states, for example electrical limit switches on vent valves or auxiliary contacts of power contactors. The inputs can be used as contact or voltage inputs.
Protocols: BACnet MSTP
Product Description
iSMA-B-MAC36NL is a combination of 36 Input/Outputs, up to two isolated RS485 with selectable both biasing and termination for serial communication with various types of protocols, like Modbus RTU or BACnet MSTP.
Two fully addressable Fast Ethernet Ports with many protocols supported, like BACnet IP, Modbus TCP, LON IP, M-Bus IP, etc. ISMA-B-MAC36NL offers endless possibilities of integration between different systems like HVAC, access control, lighting, CCTV, and many others, thanks to Niagara Framework. Using the specific local I/O set 16x UI, 8x AO, 4x DI and 8x DO allows to use the device in different applications. Both optoisolated RS485 ports can handle each up to 128 devices with a variety of protocols like Modbus RTU, ASCII, BACnet MS/TP.
24 V AC/DC +/- 10 % (SELV)
Green, red and yellow LED
You might also like