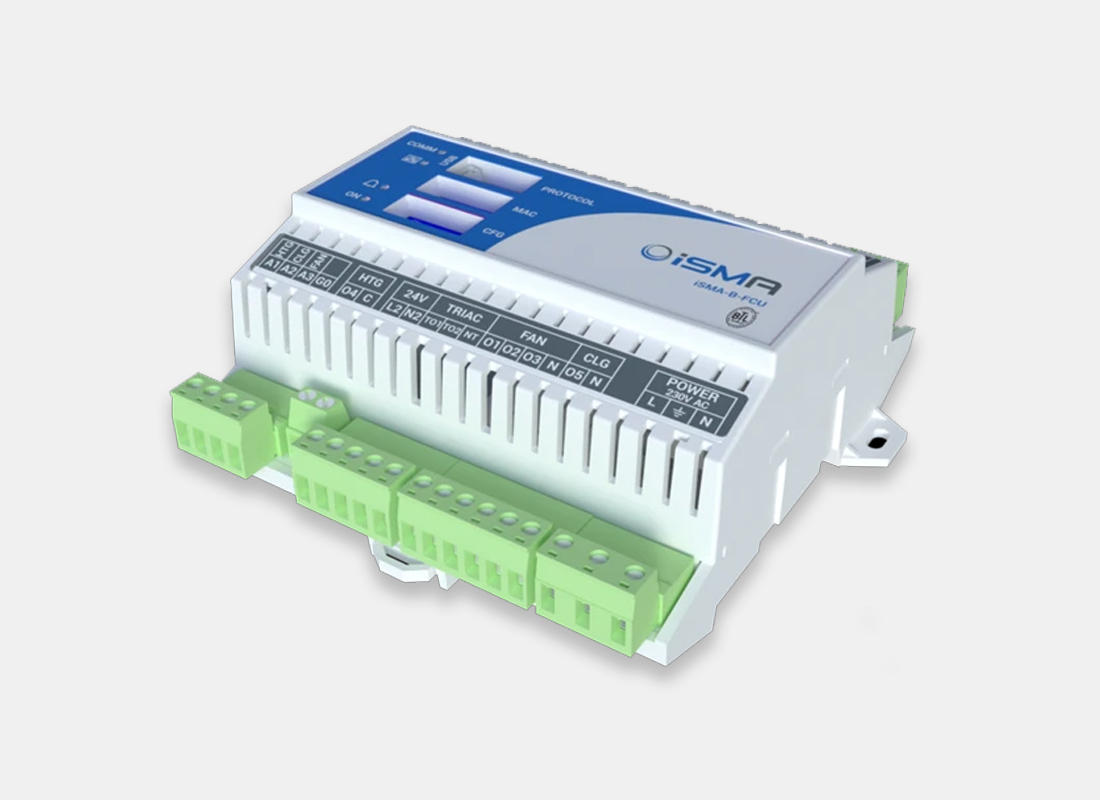 iSMA FCU-HL
The iSMA FCU-HL, fully programmable controller, is built with the aim of controlling the FCU (Fan Coil Unit)

The controller is factory-equipped with the two most popular open communication protocols Modbus ASCII/RTU and BACnet MSTP, which are selected using DIP switches.
Protocols
BACnet or Modbus

To minimise time and simplify commissioning process the controller is delivered with universal application, which supports the most popular types of FCU. Dedicated DIP-switch allows to adjust parameters of the application. Additionally, in the BACnet protocol, the application has the built-in function which allows automatically to bind Master and Slave controllers in the groups. In the case, if the application does not meet the project requirements, it can be modified or created from scratch. Changing of the application is possible in real-time by USB port. There are three hardware versions which have  different types of Triac Outputs and power supply.
Inputs
4x Special Input – voltage, resistance, dry contact
4x Digital Input – dry contact
Outputs
3x Digital Output 6 A (Fan Speed)
1x Digital Output 10 A (electric heater)
1x Digital Output 6 A (cooling actuator)
2x Triac 0,5 A @ 230 V AC or 0,5 A/0,3 A @ 24 V AC (heating and cooling, actuators)
3x Analog Outputs 0-10 V DC (heating, cooling actuators and Fan Speed)
Platform
Power supply
Communication
Interface RS485 half duplex
Up to 128 devices on the bus
Protocols: Modbus or BACnet
Baud rate: 4800 to 115200 bps
Housing
Dimension: 123,6×136,6×54,5 mm, (123,6×171,2×54,9 mm) with plastic cover for terminals
Construction: plastic, self-extinguishing (PC/ABS)
DIN rail mounting DIN (DIN EN 50022 norm)
Cooling: internal air circulation
Environments
Operating temperature: -10°C to 50°C
Storage temperature: -40°C to 85°C
Relative humidity: 5 to 95%, no condensation
Ingress Protection Rating: IP40 – for indoor installation
Better manage your HVAC with our stock of programmable Fan Coil Units supporting a range of communications, including BACnet, Modbus and Modbus MSTP.