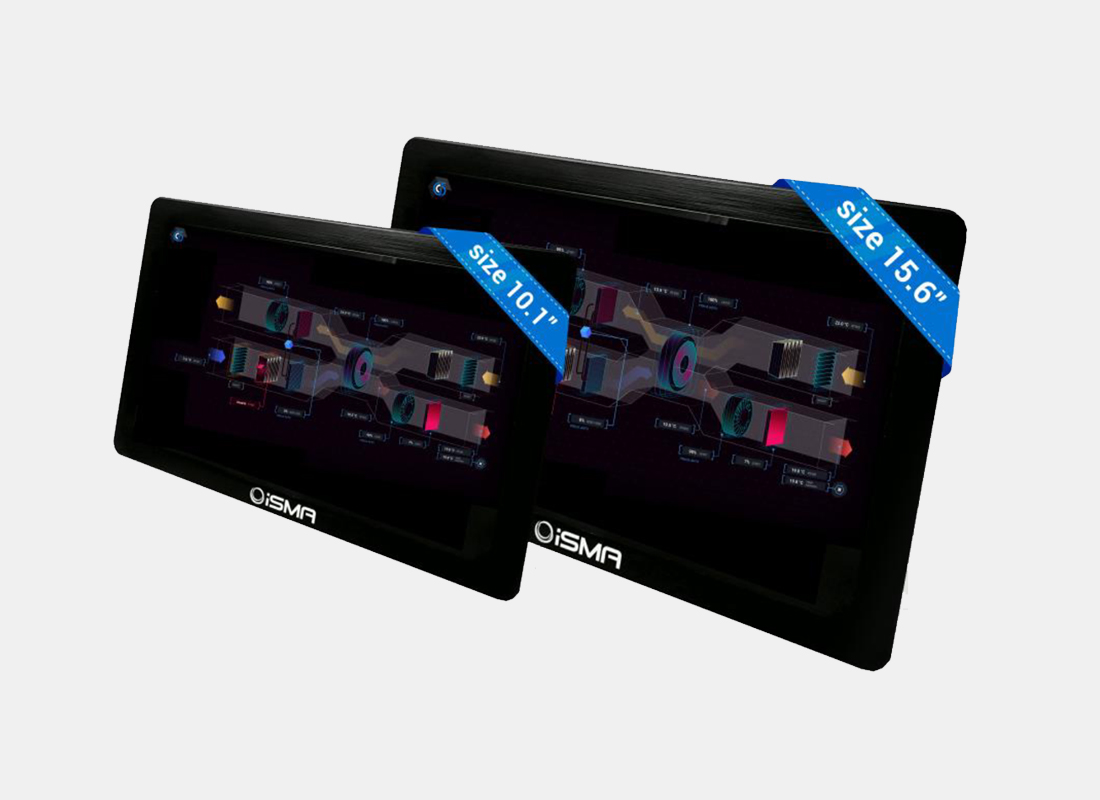 iSMA D-PA Touch Screen
iSMA D-PA is an Industrial PC Panel with Android 7.1 operating system. It has been designed to simplify the use of Master Application Controller: iSMA-B-MAC36NL.
You can connect it to iSMA-B-MAC36NL, JACE 8000 or other supervisor powered by Tridium Niagara to display graphics by web page from Niagara system.
Screen sizes available
10.1″ and 15.6″

As a Panel PC with Android it can be also used as User Interface. You can install a dedicated application that will allow a communication with other devices in BMS system for example our Android application designed for connectivity with Niagara station. The Aspect Ratio 16:9 with resolution 1920×1080 allows for displaying graphics clearly. The panel can be built into the wall, it is compatible with VESA. The panel has an extensive menu in 7 languages, in which we can customize the displayed image.
Key Features

Android 7.1 operating system
15" display with capacitive touch screen
Aspect Ratio 16:9
Resolution 1920×1080
Response time 5 ms
IP65 for front Panel
Aluminum alloy enclosure
VESA compatible
Available with EU, UK and US power supply.
Interfaces
• IP
• TF/SD Card
• 2x RS232
• USB 3.0 and USB 3.0/OTG USB
Interface
• Built-in 7 languages – English, French, German, Spanish, Chinese, Italian, Russian
• Menu for changing image settings
Power
• Power supply: 110-240 V AC (12V DC), 50/60 Hz
• Power consumption: ≤ 30
• Power standby: ≤ 1.5 W
• Power supply adapters: EU, UK or US
Installation
• Compatible with VESA
• For embedding
• Wall Mount
Environment
• Operating temperature: -10°C to 60°C (14°F to 140°F)
• Storage temperature: -10°C to 60°C (14°F to 140°F)
• Operation humidity: 10% to 80%
• Storage humidity: 10% to 90%
• Ingress Protection Rating: IP65 – for front panel
We stock a range of high quality and cost effective displays to meet your SMART Building requirements. Whether you want to display energy monitoring in cabinets or a graphics viewer for web servers, we have the solution for you.