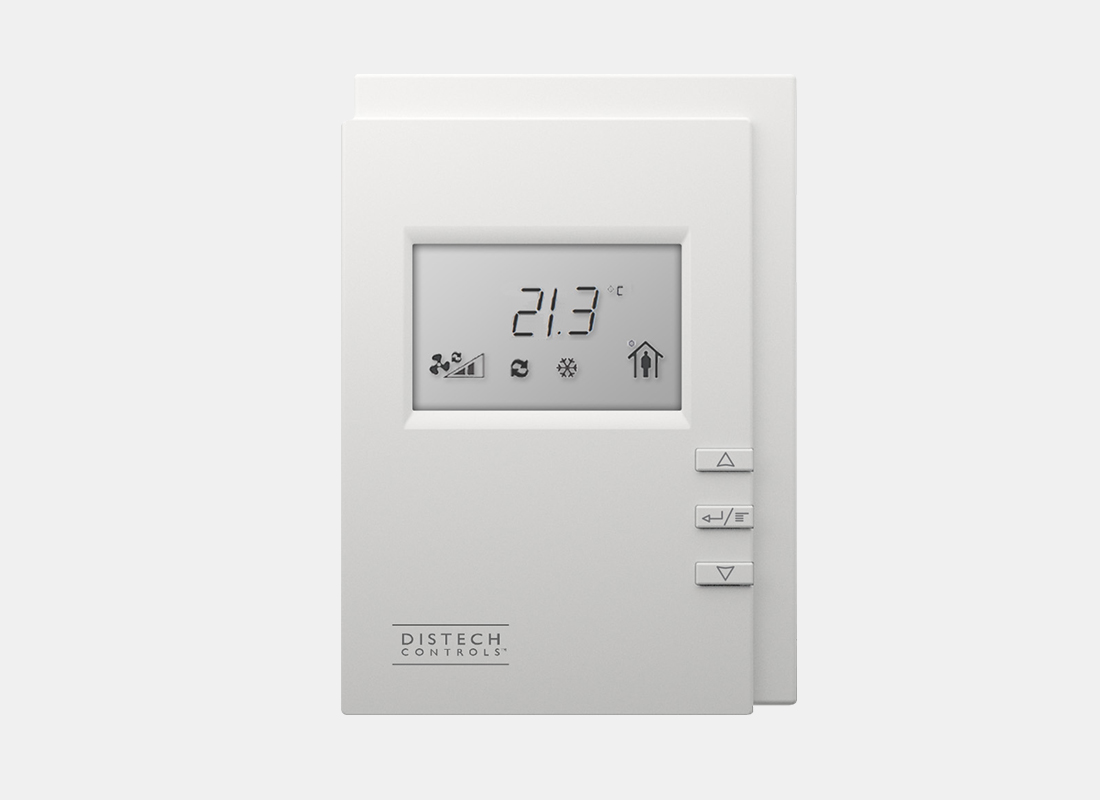 Allure RS Smart Vue
The Allure EC-Smart-Vue Series is designed to interface with Distech Controls' ECL series LONWORKS® Controllers, ECB series BACnet® Controllers and ECLYPSE™ series BACnet/IP and Wi-Fi Controllers.
This line of communicating sensors with backlit display consists of eight models that provide precise environmental zone control.
Customisation
Models are available with any combination of the following: temperature, humidity, CO2 , and motion sensor.
Offers temperature, humidity, CO2 , and motion sensing for the following applications:
VAV controllers
Fan coil units
Roof top units
Unit ventilators
Heat pumps
ABC Logic Self-Calibration System
The patented ABC Logic self-calibration system eliminates the need for manual CO₂ calibration in most applications. ABC Logic guarantees lifetime CO₂ calibration.
"4-in-1" Communicating Sensors
Multi-sensing capabilities (temperature, humidity, CO2 , and motion) using one wire and one connection.
Eco-Vue Leaf Pattern
The innovative ECO-Vue Leaf Pattern graphically indicates energy consumption in real time to promote an occupant's energyconscious behavior. Occupants are encouraged to have greener habits with the ECO-Vue Leaf Pattern while reducing energy costs. As more leaves appear, greater energy efficiency is being achieved, while fewer leaves will encourage the occupant to take corrective action to optimize the system's environmental performance.
Enhanced User Experience
Occupants can view and adjust environmental settings to their liking, for example, view the space temperature, adjust the setpoint, control lighting through occupancy detection, set the fan speed, and apply occupancy overrides. Occupants can override the HVAC mode and view and adjust the setpoint and fan speed for improved personal comfort.
Appealing User Interface and Design
Slim, compact style, and clean lines are well received by architects and building owners. Furthermore, the clear and bright LCD display provides real-time access to temperature and other system information such as setpoint, occupancy status, HVAC mode, etc.
Quick and Easy Installation
Both power and communications pass through a single Cat 5e cable for reduced installation costs and for easier installation. Two RJ-45 ports facilitate the daisy-chain connections of room devices.
Increased Energy Efficiency
Achieve energy efficiency through occupancy-based control with:
Motion sensor to readjust the space temperature setpoint and manage lighting.
CO2 sensor as part of the demand-controlled ventilation strategy that adjusts the amount of outdoor air intake according to the number of occupants.
Lights, Blinds and Air Temperature. Our extensive range covers all aspects of  room control and beyond, from single controllers to wall fitted thermostats.