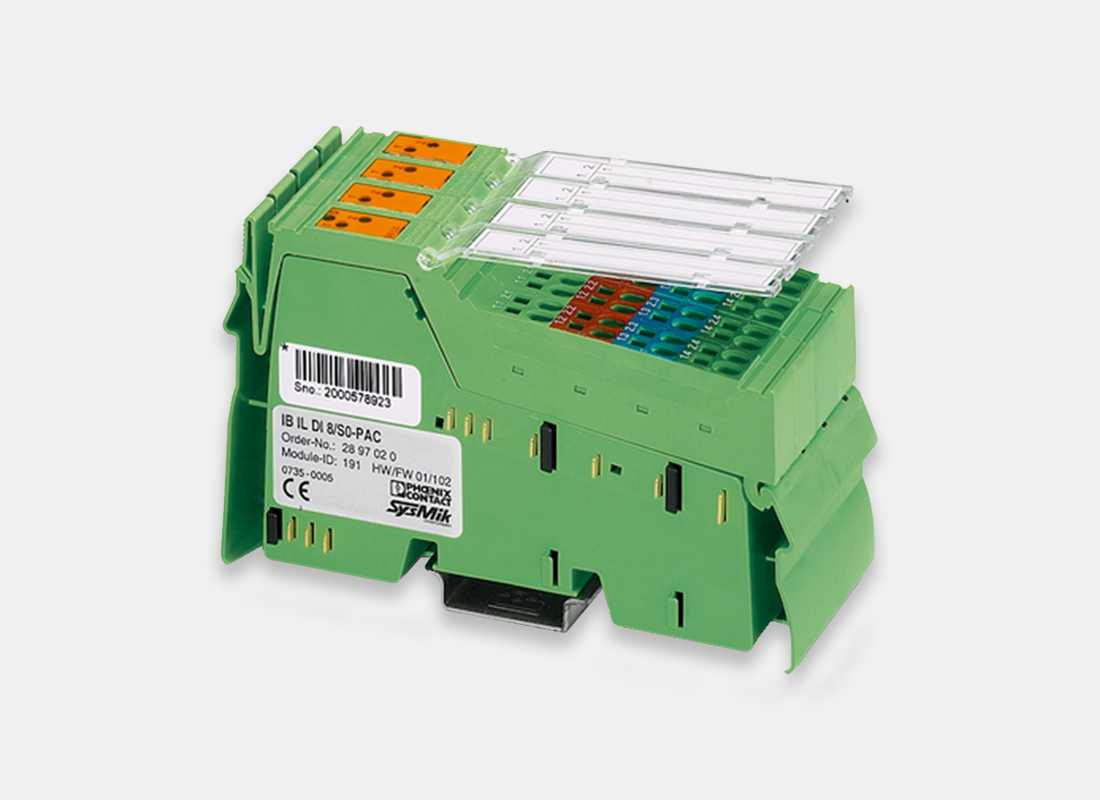 DI 8/S0-PAC 2897020
The Phoenix Contact DI 8/S0-PAC terminal is designed for use within an Inline station with 8 digital inputs.

It is ideal for recording counting pulses from impulse encoders with an S0 interface in acc. with DIN 43864 and for Class A impulse encoders in acc. with IEC 62053-31.
Compatability
ILC 2050 Controller with Niagara Framework

Eight inputs

Connection of S0 impulse encoders, floating contacts

or outputs with negative logic (e.g., open collector,

open drain)

Connection of sensors in 2, 3, and 4-wire technology

32-bit counter range

Communication via process data

Maximum permissible load current per sensor: 250 mA

Maximum permissible load current from the terminal:

2 A

Diagnostic and status indicators

Pulse counter:
Maximum counting frequency of up to 150 Hz
In addition, current period length or pulse length (ON or OFF) can be read with a resolution of 1 ms (16-bit counting range)

Operating hours counter:
1 s resolution
Counter enabled on active or inactive input (configurable)
Expand your BMS with our extensive range of IO Modules. On a small or large scale, we have solutions that meet every requirement, from brands such as iSMA, Tridium, Phoenix Contact, Metz Connect and more.