Download



Want more information or alternatives to a product? Call us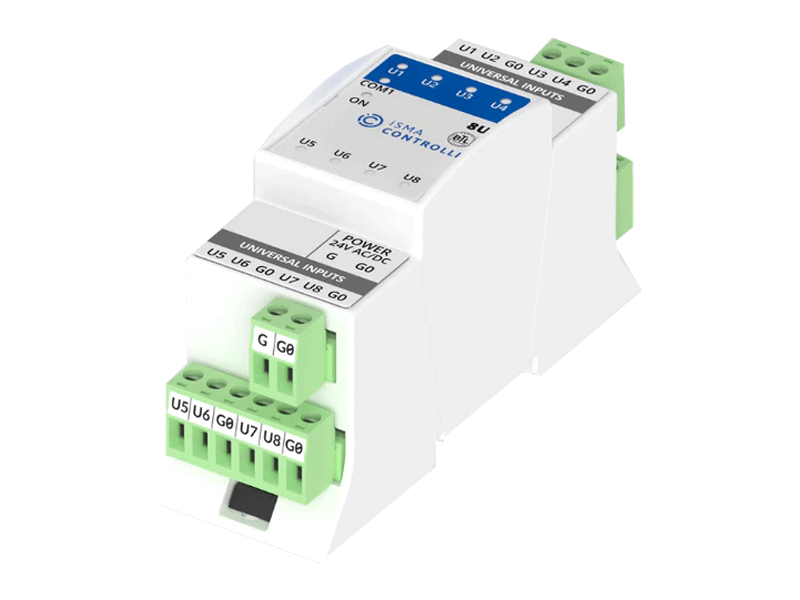 iSMA Controlli Mini 8U

The  iSMA-B-8U has 8xUI (Universal Inputs). UI can work in 5 different modes: temperature, voltage, current, resistance, dry contact.
The iSMA 8U is factory-equipped with the two most popular open communication protocols: Modbus ASCII/RTU and BACnet MSTP, which are selected using DIP switches.
Protocols: Modbus ASCII/RTU and BACnet MSTP
Product Description
Addressing the modules is via rotary switches, which facilitates and accelerates the process of commissioning the system.Built-in mini USB allows for initial configuration of the unit without power supply.
8x Universal Inputs (8UI)
All universal inputs have 16-bit resolution which support the following types of inputs:
Temperature input support the following types of sensors: 10K3A1, 10K4A1, Carel 10K, 20K6A1, 2.2K3A1, 3K3A1, 30K6A1, SIE1, TAC1, SAT1, Pt1000, Ni1000
For sensor Pt1000 and Ni1000 use only 16bit resolution
Voltage input 0-10 V DC: input resistance 100 kΩ accuracy ±0,1% measurement resolution 3 mV @ 12bit and 1 mV @ 16bit
Current input 0-20 mA
Resistive input 0-1000 kΩ: measurement resolution for 20 kΩ load 20 Ω @ 12bit and 1 Ω @ 16bit
Dry contact input
Platform
Power supply
Communication
Interface RS485 half duplex
Up to 99 devices on the bus
Protocols: Modbus or BACnet
Baud rate: 2400 to 115200 bps
Housing
Dimension: 37x110x62 mm (1.457 x4.331×2.441 in)
Construction: plastic, self-extinguishing (PC/ABS)
DIN rail mounting (DIN EN 50022 norm)
Cooling: internal air circulation
Environments
Operating temperature: -10°C to 50°C (14°F to 122°F)
Storage temperature: -40°C to 85°C (-40°F to 185°F)
Relative humidity: 5 to 95%, no condensation
Ingress Protection Rating: IP40 – for indoor installation
Supporting Videos

You might also like