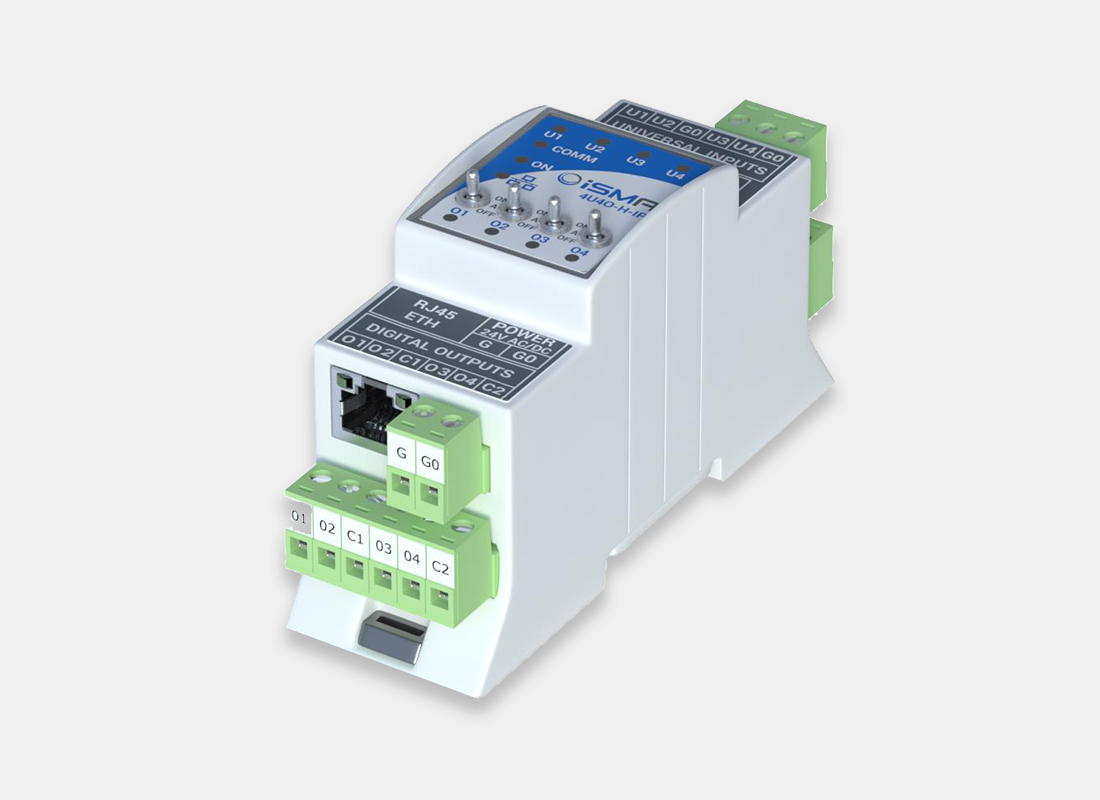 iSMA MINI 4U4O H IP
The iSMA B 4U4O H IP has 4x DI (Digital Inputs) and 4x DO (Digital Outputs). DI can work as dry contact or fast pulse counter up to 100 Hz save in EEPROM memory. DO are relay outputs 230 V AC/30 V DC max. 3 A.
The iSMA 4U4O H IP is factory-equipped with the two most popular open communication protocols: Modbus ASCII/RTU and BACnet MSTP, which are selected using DIP switches.
Compatibility
Niagara Framework and any BMS

Built-in Modbus Gateway TCP/IP to Modbus ASCII/RTU, enabling you to connect additional modules/devices that communicate via Modbus RS485. Addressing the modules is via rotary switches, which facilitates and accelerates the process of commissioning the system. Built-in mini USB allows for initial configuration of the unit without power supply.
4x Universal Inputs (4UI)
All universal inputs have 16-bit resolution which support the following types of inputs:
Temperature input support the following types of sensors: 10K3A1, 10K4A1, Carel 10K, 20K6A1, 2.2K3A1, 3K3A1, 30K6A1, SIE1, TAC1, SAT1, Pt1000, Ni1000
For sensor Pt1000 and Ni1000 use only 16bit resolution
Voltage input 0-10 V DC: input resistance 100 kΩ accuracy ±0,1% measurement resolution 3 mV @ 12bit and 1 mV @ 16bit
Current input 0-20 mA
Resistive input 0-1000 kΩ: measurement resolution for 20 kΩ load 20 Ω @ 12bit and 1 Ω @ 16bit
Dry contact input
4x Digital Outputs (4DO)
Relay output (NO) max. 3 A, 230 V AC/30 V DC
Platform
Communication
Interface RS485 half duplex
Up to 99 devices on the bus
Protocols: Modbus or BACnet
Baud rate: 2400 to 115200 bps
Power supply
Housing
Dimension: 37x110x62 mm (1.457 x4.331×2.441 in)
Construction: plastic, self-extinguishing (PC/ABS)
DIN rail mounting (DIN EN 50022 norm)
Cooling: internal air circulation
Environments
Operating temperature: -10°C to 50°C (14°F to 122°F)
Storage temperature: -40°C to 85°C (-40°F to 185°F)
Relative humidity: 5 to 95%, no condensation
Ingress Protection Rating: IP40 – for indoor installation
Expand your BMS with our extensive range of IO Modules. On a small or large scale, we have solutions that meet every requirement, from brands such as iSMA, Tridium, Phoenix Contact, Metz Connect and more.