Download



Want more information or alternatives to a product? Call us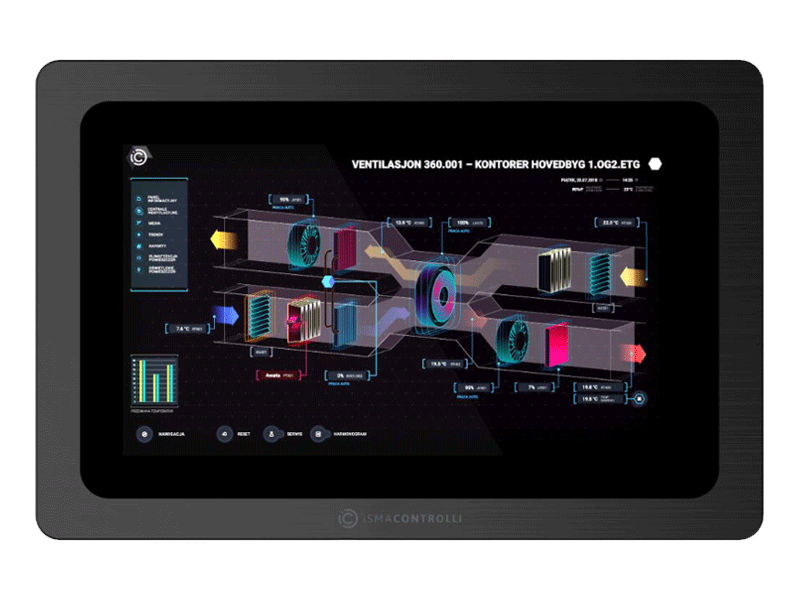 iSMA Controlli D-PD Touch Screen

The iSMA-D-PD10C-B1 is 10.1" Industrial LCD panel has been designed to simplify the use of Master Application Controller: iSMA MAC 36NL
By using the most popular interface for sending images, panels can be combined in many ways.
Power supply: Available with EU, UK or US power supply
Product Description
The applied RJ45 interface prevents from falling out the dedicated wire for transmitting touch commands (RJ45 – USB). The Aspect Ratio 16:9 with resolution 1366×768 allows for displaying graphics clearly. The panel can be built into the wall, it is compatible with VESA. The panel has an extensive menu in 7 languages, in which we can customize the displayed image. Available with EU, UK and US power supply.
Key Features

10.1" display with capacitive touch screen
Aspect Ratio 16:9
Resolution
For iSMA-B-MAC36NL 1280×720
For Panel 1366×768
Interface HDMI, DVI, VGA, I/O Audio, RJ45-USB for touch input
Response time 5 ms
IP65 for front Panel
Aluminum alloy enclosure
VESA compatible
Display
Size 10,1''
Aspect Ratio 16:9
Resolution: for iSMA-B-MAC36NL 1280×720 for Panel 1366×768
Contrast 800:1
Luminance 300 nit, up to 800 nit
Response time 5 ms
Active Area (mm) 222.7×125.2
Display colors 16,7 M (8-bit)
View angle 75/75/75/75
10-point capacitive touch screen
Installation
Compatible with VESA
For embedding
Wall mount
I/O Interface
• HDMI
• VGA
• DVI
• I/O Audio
• RJ45-USB for touch input
• DC 12-24 V
Interface
• Built-in 7 languages – English, French, German, Spanish, Chinese, Italian, Russian
• Menu for changing image settings
Power
• Power supply: AC 110-240 V, 50/60 Hz
• Panel power input: DC 12 V-24 V
• Power consumption: ≤ 30 W
• Power standby: ≤ 1.5 W
• Power supply adapter: EU, UK or US
Housing
• Dimension: 293,6×193,6×48,5 mm (11.560×7.622×1.909 in)
• Construction: Aluminum alloy enclosure, color black
• Bezel thickness 3 mm
Environment
• Operating temperature: -10°C to 60°C (14°F to 140°F)
• Storage temperature: -10°C to 60°C (14°F to 140°F)
• Operation humidity: 10% to 80%
• Storage humidity: 10% to 90%
• Ingress Protection Rating: IP65 – for front panel
Supporting Videos

You might also like