Download



Want more information or alternatives to a product? Call us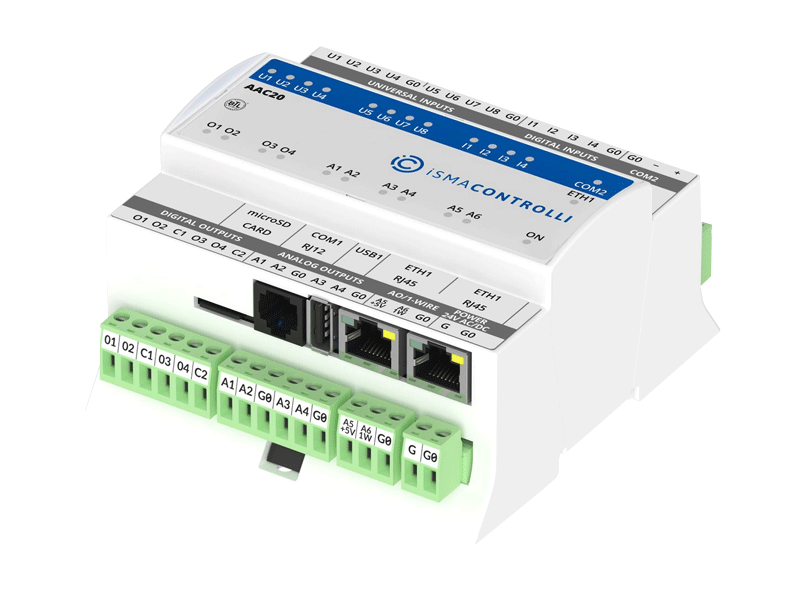 iSMA Controlli AAC20

Freely programmable Advanced Application Controller powered by Sedona Framework is a universal DDC and multiprotocol integration platform. Equipped with onboard 22 I/Os, 2 RS485 ports, 2 ports with Ethernet interface working in a switch mode, 1-Wire interface and built-in web server.
Compatibility: Niagara Framework and any BMS
Product Description
Experience the Freedom of Control Offered by the Sedona Framework
AAC20 offers a rapid fast advanced application control with a possibility of creating a tailor-made application with a power and flexibility offered by the Sedona Framework. Sedona is an open-source software environment designed to make it easy to build smart, networked, embedded devices, which are well-suited for implementing control applications.
Freely programmable controller with a modern programming tool, a variety of integration interfaces, and 22 onboard I/Os is suitable for a wide range of HVAC projects.
Data Logging with Instant Access
The device is suitable for fast response environments thanks to its instant start-up, real-time clock (RTC), and powerful onboard Cortex-M4 processor. A microSD card slot allows alarms and trend logs to be collected and read in real time.
Direct Digital Control
To ensure a maximum flexibility of AAC20, it is equipped with 22 I/Os that can be easily expanded with two RS485 ports using iSMA CONTROLLI multiprotocol I/O modules.
8 Universal Inputs
Support for over 20 types of temperature sensors and voltage, resistance, current, and dry contact measurements on each universal input.
4 Digital Inputs
Dry contact inputs – made for monitoring. 100 Hz fast pulse counter with override function saves the real-time values to the non-volatile memory of the controller.
4 Digital Outputs
Digital outputs equipped with normally open 3 A relays allow for direct control without additional relays.
6 Analog Outputs
0-10 V DC control with 10 mA accuracy, PWM modes, and a maximum load of up to 20 mA to power external relays makes the output suitable for a variety of scenarios (AO5 and AO6 can only be used if the 1-Wire port is not in use, maximum current load for AO6 is up to 5 mA).
Versatile Integration Platform
To make the controller useful in various building scenarios, it is equipped with a variety of open communication protocols over IP and serial buses, like BACnet IP, Modbus TCP/IP, BACnet MS/TP, Modbus RTU/ASCII, M-Bus IP, 1-Wire, or oBIX.
Simplified Configuration and Commissioning Process
Configuration, programming, and integration are done in one free of charge tool. Two Ethernet ports working in a switch-mode allow for daisy chaining of multiple controllers with MIX modules over the RJ45, which enhances the cabling process and reduces the engineering time. The ability for troubleshooting using a built-in web server or a USB port facilitates the engineering process.
Quality and Reliability Confirmed by Certificates
iSMA CONTROLLI is a long-standing member of the BACnet community. The experience in developing high-quality products and the BTL (BACnet Test Laboratory) certification confirm the excellent performance of communication using the BACnet protocol.
You might also like