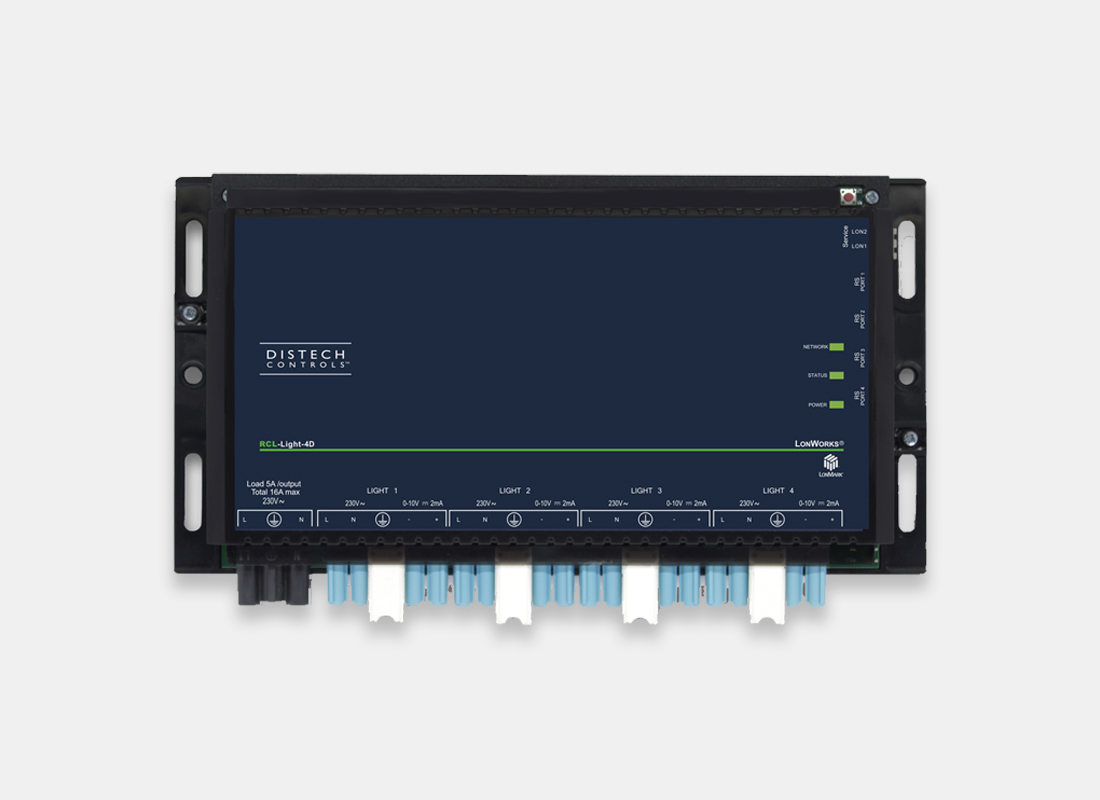 RCL Light Series
The Distech Controls RCL Light/Blind Series are microprocessor-based configurable controllers designed to offer an optimal solution for lighting and sunblind management within open plan offices and buildings.

The series contains eight models: 4 and 8 channel lighting controllers for dimming or switching, and 4 and 8 channel sunblind controllers for 24 VDC and 230 VAC sunblind motors.
Protocol
These controllers use the LonTalk® communication protocol and are LonMark certified.
Features
All versions have 4 RJ9 connector inputs for accessories, which include multi-sensors for light level and occupancy detection, and a wireless receiver for wireless sensors and switches
All controller models also work with the Allure™ RS-Smart-Sense, which is a customizable room sensor with color TFT touch screen and graphical menus. These sensors are used for indoor temperature measurement, setpoint adjustment, fan speed selection, and occupancy state override, as well as lighting and sunblind management to provide a cross-functional integrated local user interface.
Each controller can be easily configured using LNS®-based plug-in or the EC-NetAX™ wizard, powered by the NiagaraAX Framework®. In either case the configuration is simplified, making the setup of lighting and sunblind applications an easy, intuitive experience.
Applications
Meets the requirements of the following applications:
On/Off Lighting
Dimmable Lighting
24 VDC Sunblinds
230 VAC Sunblinds
Improves energy efficiency when combined with:
Motion detectors to automatically adjust a zone's occupancy mode from standby to occupied when presence is detected.
Remote controls to control both lighting and sunblinds, and a room's HVAC occupancy / standby mode setting.
Lux level sensor to fit the necessary light power to the actual luminosity in the room
Easily configurable
Designed for use respectively with EC-NetAX (powered by the NiagaraAX Framework) or LNS-based softwares such as Distech Controls' Lonwatcher 3, the EC-NetAX Wizards and LNS plug-in can be used to easily configure a device's parameters including RJ9 accessories, lighting and/or sunblind outputs, occupancy parameters, amongst others, and to test wiring and identify the connected devices.
User-friendly interface to easily and efficiently configure the controller's parameters

Powerful import/export functionalities to duplicate a controller's settings for reuse

Download configuration to multiple devices for large BMS integration
Benefits
Embedded Demand Response Technology eases integration in Smart Grid systems, enabling real-time power management to cut energy bills and extend equipments lifetime

A comprehensive range of compatible accessories including motion sensing, light level measurement and EnOcean wireless receiver to combine efficient automated control with ease of use for the end user

Controllers include HVAC data transmission to facilitate muti-discipline control from a single room device

Quick-link connectors for faster on-site installation (except RCL-Blind-xLV)

Easy settings replication from one office to another to expedite large BMS integrations

Fail-safe mode to ensure the occupants' security under all conditions

Compatible with the RFR Wireless Receiver, letting you create wire-free installations and use various wireless battery-less sensors and switches

Sunblind closure management according to sunlight and occupancy status reduces HVAC systems consumption

Can be operated as a stand-alone unit or as part of a networked system for increased intelligence

Separate control of window side and corridor side luminaires ensures consistent light throughout the enlightened room
Lights, Blinds and Air Temperature. Our extensive range covers all aspects of  room control and beyond, from single controllers to wall fitted thermostats.