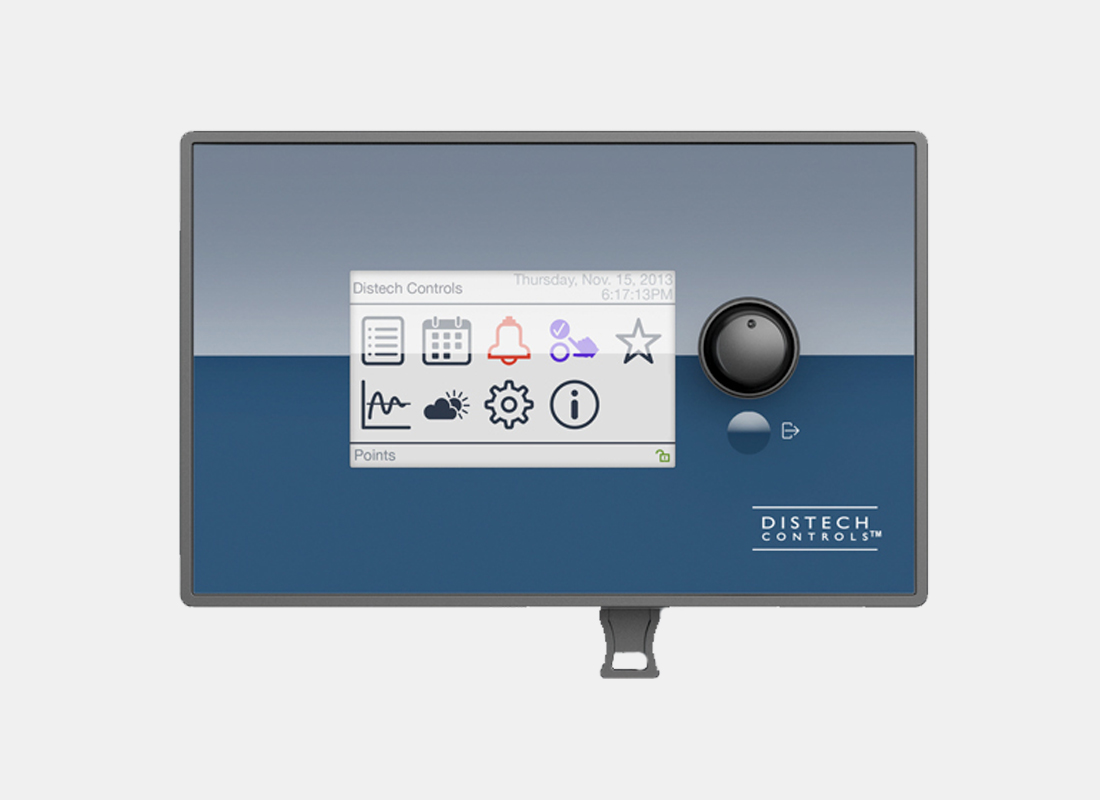 ECx Display
Streamlined mechanical room display for your ECB series BACnet® controllers, ECL series LonWorks® controllers, and ECY series ECLYPSE Connected BACnet/IP and Wi-Fi controllers.
Managers and technicians will benefit from this powerful, user-friendly color backlit LCD display, providing convenient access to important system data in real time.
Protocol
These controllers use the LonTalk® communication protocol and are LonMark certified.
The ECx-Display is a full-color backlit display accessory for the ECB and ECL 203 / 300 / 400 / 600 Series controllers as well as the ECLYPSETM Connected Controllers. It allows quick and easy real-time access to view and modify many controller options such as PID loops, schedules and calendars, weather, favorites, alarms, and overrides (refer to controller datasheet for complete compatibility). Available in black or blue, the ECx-Display is designed for DIN rail mounting, panel mounting, or as a temporary handheld device that can easily be moved from one controller to another.
Applications
The ECx-Display is suitable for the following applications:
Panel-mounting capability on electrical cabinet door.

DIN mounting capability within electrical cabinet.

Hand-held portable device to view statuses or modify values of compatible controllers.

Plug and play real-time access

Suitable for dusty or splash-prone environments when panel mounted (mechanical rooms).
Operator Interface
Display and acknowledge alarms
Visually tune PID parameters with system response graphing
Device commissioning
View and modift schedules, calendars and graphs through a graphic interface
View the current weather conditions
Create a list of favourites to provide quick access to commonly used values
Multi-user management for access restrictions
Multilingual interface
Portable Design
The ECx-Display is portable and designed to act as a temporary handheld device if necessary. Its compact design makes it easy to hold and operate.
Dust and Splash-Resistance
The ECx-Display is rated IP 54 according to the International Electrotechnical Commission (IEC) when mounted on the front of a panel. This provides dust and splash protection, making it ideal for use in mechanical rooms.
Single Cable Connection
Both power and communications pass through a single Cat 5e cable. This provides reduced installation costs, easier installation or system retrofit.
ECx-Subnet-Adapter
Use an ECx-Subnet-Adapter to daisy-chain the ECx-Display, ECLYPSE Connected Controllers or compatible ECB/ECL controllers, and compatible subnet devices such as Allure™ Series Communicating Sensors.

Lights, Blinds and Air Temperature. Our extensive range covers all aspects of  room control and beyond, from single controllers to wall fitted thermostats.