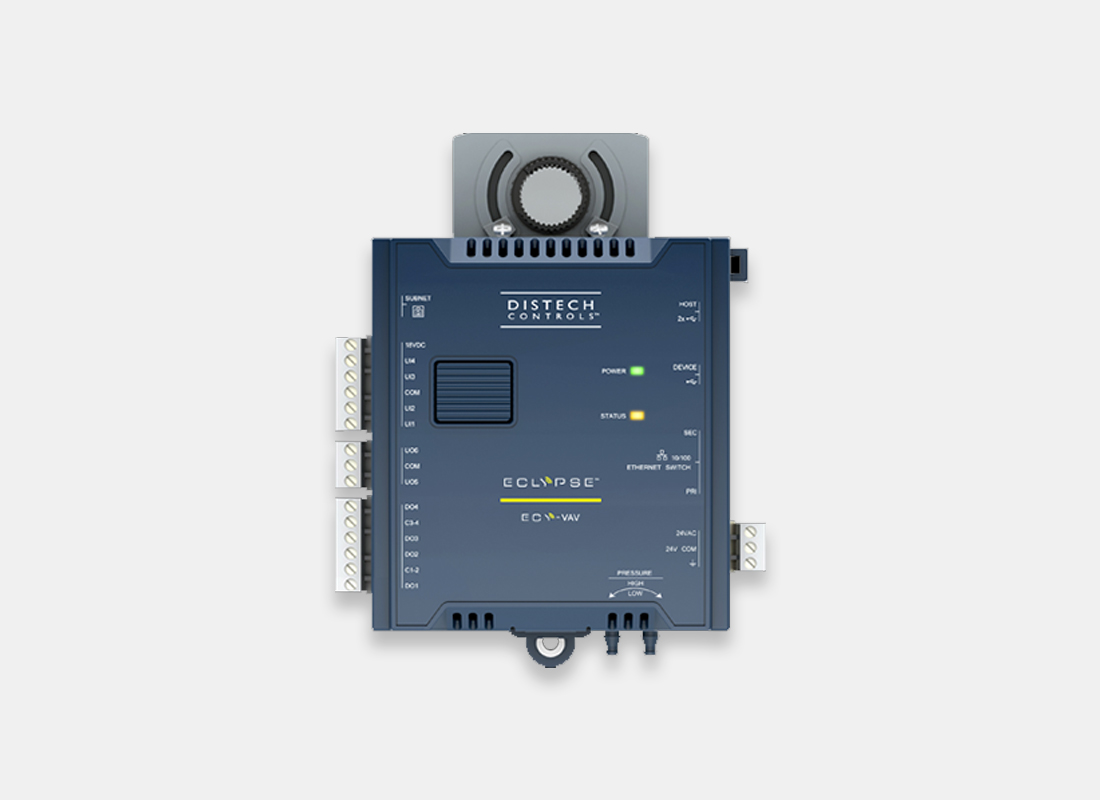 ECLYPSE VAV Controller
The The Distech Controls ECLYPSE Connected VAV Controller series are designed to control any variable air volume box application "out of the box".
It is preloaded, configurable applications and embedded ENVYSION Viewer, for local hosting of application graphics.
Configure
Pre-loaded with embedded ENVYSION

Virtually eliminate engineering, programming and graphics development, increasing efficiency by over 25% of design, installation and commissioning.
Benefit from ECLYPSE empowered connectivity, and implement a reliable, redundant Wi-Fi mesh network with Connected VAV Controllers, ideal in offices and large open spaces alike, or choose Connected VAV Controllers with Power over Ethernet, providing unique installation and maintenance cost savings.
The ECLYPSE Connected VAV Controller is designed to control any variable air volume (VAV) box. It supports BACnet/IP communication and is a listed BACnet Building Controller (B-BC).
The Connected VAV Controller comes with an embedded web server that enables web-based VAV application configuration and a visualization interface. It also features embedded scheduling, alarming, and logging. Control logic and graphic user interface can be customized as required for the application
The Connected VAV Controller is a plug and play device that saves time and money since no programming or graphic design is needed as it comes with ENVYSION™ Viewer and the associated preloaded applications and graphics are pre-installed.
All standard VAV applications, such as single duct, series fan, and parallel fan, are included. Also, no additional tools are required; only a web-browser is needed when you are using the pre-loaded application through ENVYSION. An Allure™ EC-Smart-Vue sensor can also be used. However, if the pre-loaded application does not meet the application requirements, it is possible to use EC-gfxProgram to program it.
Specifications
Robust and compact design for your VAV applications
4 universal inputs with high precision 16-bit AD
4 digital outputs (Triac)
2 universal outputs
Built-in differential pressure transducer featuring polarity insensitive/polarity-free connection
Integrated damper actuator with brushless DC motor
Reliability and Power
Model with Power over Ethernet – A single cable to provide both data and power, significantly simplifying installation and maintenance, and reducing related costs
Integrated fail-safe feature allowing for increased redundancy and reliability in your IP-wired daisy chain: in case of power failure to one controller, communication data is still relayed to the following controller on the daisy-chain
Lights, Blinds and Air Temperature. Our extensive range covers all aspects of  room control and beyond, from single controllers to wall fitted thermostats.