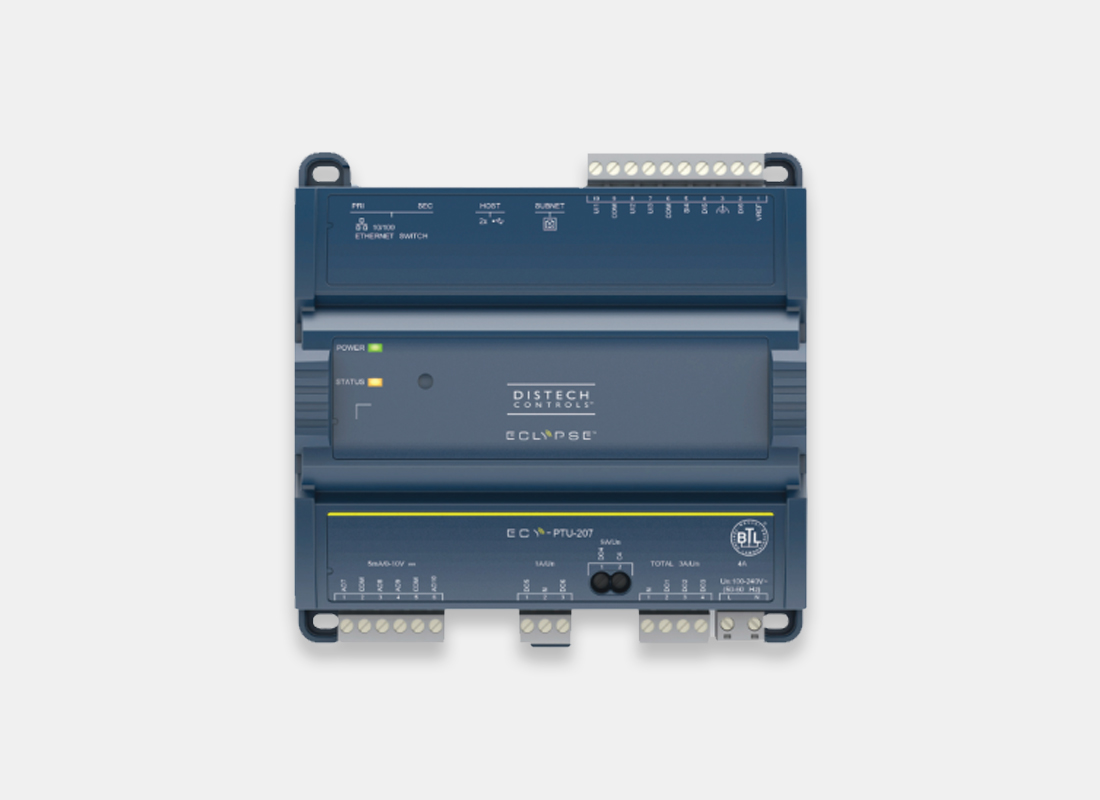 ECLYPSE Terminal Controller
The ECLYPSE Connected Terminal Unit is an HVAC Controller designed to control terminal units such as fan coil units, chilled beams, ceilings, and heat pumps.
It integrates a control, automation and connectivity server, a power supply, and dedicated I/Os in one convenient package.
Configure
Pre-loaded with embedded ENVYSION

Each model supports BACnet/IP communication and is listed as a BACnet Building Controller (BBC). These products feature wired and wireless advanced IP connectivity for efficient and reliable installation.
The Connected Terminal Unit Controller comes with an embedded web server that enables web-based application configuration and an HTML5 visualization interface. It also features embedded scheduling, alarming, and logging. Control logic and graphic user interface can be customized as required for the application
Moreover, as part of the Smart Room Control solution, these controllers can control lighting fixtures (DALI, ON/OFF, dimming) and shades/ sunblind motors (24 VDC or 100-240 VAC, up/ down and angle rotation) through additional expansion modules.
Mobility
The controller can be remotely accessed to program, configure, or maintain the installation thus reducing costs associated with on-site visits. Through a mobile device or PC, a range of tasks can be performed using the following free-to-use tools and interfaces:
ENVYSION web-based graphic design and visualization interface
EC-gfxProgram graphical programming interface £ myDC Control mobile application
XpressNetwork Companion controller data collection utility
FIPS 140-2 Level 1 Compliant
FIPS 140-2 Level 1 compliance provides an enhanced level of security to protect data the controller is collecting and sharing making it suitable for use in the most sensitive environments.
Support Devices
ENVYSION
The Connected Equipment Controller is a plug and play device that saves time and money since no programming or graphic design is needed as it comes with ENVYSION™ Viewer and the associated preloaded rooftop unit applications and graphics pre-installed. Also, no additional tools are required; only a web-browser is needed when you are using the pre-loaded application through ENVYSION. If the pre-loaded application does not meet the application requirements, you can program it using EC-gfxProgram.
EC-gfxProgram
Supports Distech Controls' EC-gfxProgram, which makes Building Automation System (BAS) programming effortless by allowing you to visually assemble building blocks together to create a custom control sequence for any HVAC / building automation application. EC-gfxProgram projects can be downloaded in batch to multiple controllers, for greater time savings. Batch firmware update can also be performed on multiple controllers.
Allure™ Series Communicating Sensor Support
These controllers work with a wide range of sensors, such as the Allure Series Communicating Sensors that are designed to provide intelligent sensing and control devices for increased user experience and energy efficiency.
Lights, Blinds and Air Temperature. Our extensive range covers all aspects of  room control and beyond, from single controllers to wall fitted thermostats.