Download



Want more information or alternatives to a product? Call us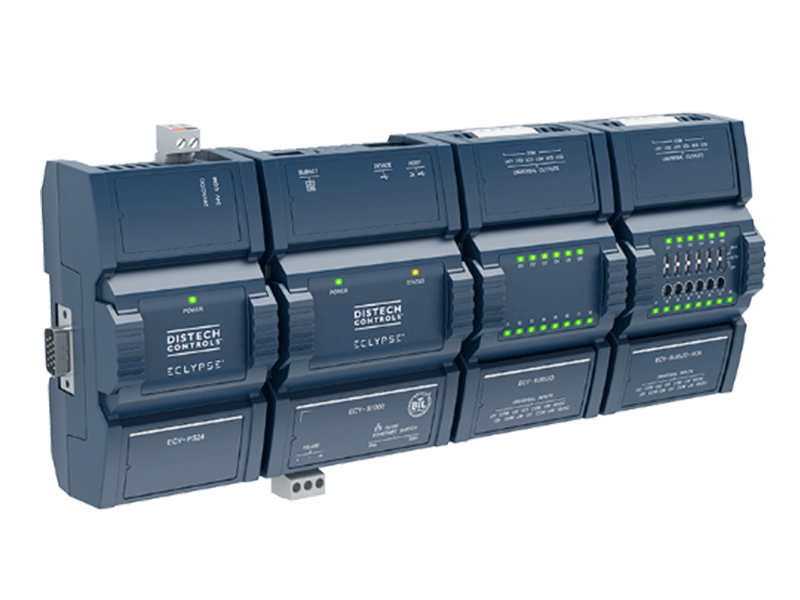 Distech Controls ECLYPSE Connected System

The Distech Controls ECLYPSE Connected System Controller is a modular and scalable platform that is used to control a wide range of HVAC applications.
It supports multi-protocol communications including BACnet/IP and is a listed BACnet Building Controller (B-BC).
Plug and play: HD-15 connectors
Product Description
The ECLYPSE Connected System Controller consists of a control, automation and connectivity server, power supply, and I/O extension modules.
This programmable Connected System Controller provides advanced functionality such as customizable control logic, Web-based design and visualization interface (ENVYSION embedded), logging, alarming, and scheduling.
The ECLYPSE Connected System Controller is typically used as:
A controller for medium/large sized Air Handling Units (AHU), central plant, lighting, power monitoring, and other applications.
Small building server and equipment controller with embedded ENVYSION. For example, it can be used to control and serve a boiler room.
Customize your ECLYPSE Connected System Controller, by selecting from:
2 power supplies
3 control, automation and connectivity servers
12 I/O modules – can be combined together for up to 20 modules and 320 points
Module with additional RS-485 ports (for up to a total of 3) to enable the concurrent support and integration of BACnet MS/TP and Modbus RTU devices
Power
Proven high-performance and power efficient single core-processor, providing scalable speed (above 1GHZ) for accelerated reading and control of points, and enhanced trending capabilities
Enables BACnet MS/TP to IP routing and Modbus RTU integration
Cost effectively connect meters, VFDs and other Modbus devices without additional gateways
Route BACnet MS/TP devices to BACnet/IP
Supports Smart Room Control solution
Supports Smart Room Control solution, for a unified, end-to-end solution for the control of HVAC, lighting, and shades/sunblind
Embedded with ENVYSION
Available with embedded ENVYSION, web-based graphic design and visualization interface, for hosting of system-based graphics, and visualization of schedules, alarms, and trend logs directly from the controller
"Direct connection" to EC-gfxProgram, graphical programming interface, and mobile apps
Auto-addressing eliminates the need to manually assign an address to each I/O module reducing installation and configuration time
Plug and Play
All modules are plug & play devices, equipped with HD-15 connectors transmitting power and communications, for fast and easy asssembly
Flexible
Daisy-chain up to 12 Allure™ series communicating sensors via the dedicated subnet port
Daisy Chain Wired IP
In daisy-chain wired IP, supports STP loop-free topology configuration
You might also like