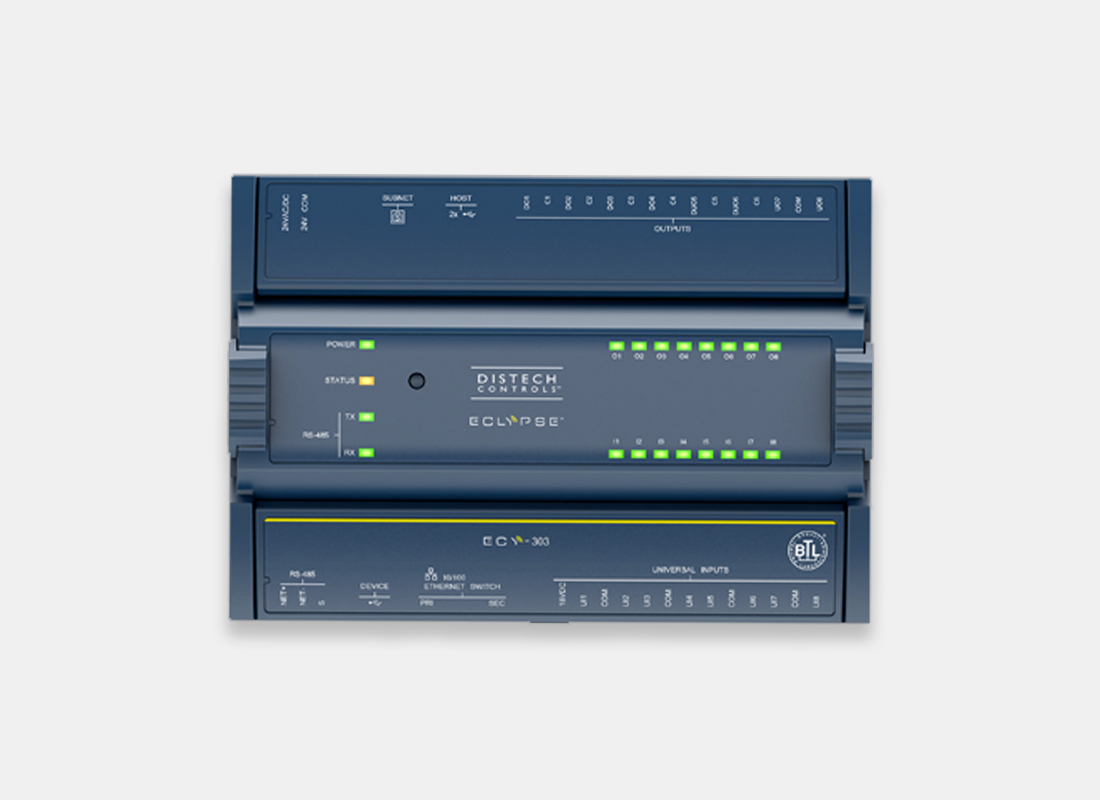 ECLYPSE Equipment Controller
The Distech Controls ECLYPSE EC-303 HVAC controller was designed to control rooftop units and small air handling units, as well as heat pumps, fan coils and chilled beam applications.

The Distech EC-303 features a diversified I/O count in a compact design and footprint for easy in-cabinet installation.
Configuration
Pre-loaded with embedded ENVYSION

Features
All-in-one controller, combining power supply, server, and a diversified I/O count

8 universal inputs
4 x 24VAC triac digital outputs
2 universal outputs
2 field configurable outputs (24VAC triac digital or universal)

Configure pre-loaded applications with embedded ENVYSION or with an Allure™ EC-Smart-Vue communicating sensor, or fully customize with EC-gfxProgram
Integrated fail-safe feature allowing for increased redundancy and reliability in your IP-wired daisy chain: in case of power failure to one controller, communication data is still relayed to the following controller on the daisy-chain
Operating temperature range suited for installation in outdoor equipment
Supports the Smart Room Control solution, for a unified, end-to-end solution for the control of HVAC, lighting, and shades/sunblind
Select models support up to 3 Modbus RTU and TCP/IP devices to cost effectively integrate meters, VFDs etc
Supports "direct connection" to EC-gfxProgram, graphical programming interface, and mobile apps
With embedded ENVYSION, web-based graphic design and visualization interface, for hosting of system-based graphics, and visualization of schedules, alarms, and trend logs directly from the controller
Daisy-chain up to 4 Allure series communicating sensors via the dedicated subnet port
Support Devices
ENVYSION
The Connected Equipment Controller is a plug and play device that saves time and money since no programming or graphic design is needed as it comes with ENVYSION™ Viewer and the associated preloaded rooftop unit applications and graphics pre-installed. Also, no additional tools are required; only a web-browser is needed when you are using the pre-loaded application through ENVYSION. If the pre-loaded application does not meet the application requirements, you can program it using EC-gfxProgram.
EC-gfxProgram
Supports Distech Controls' EC-gfxProgram, which makes Building Automation System (BAS) programming effortless by allowing you to visually assemble building blocks together to create a custom control sequence for any HVAC / building automation application. EC-gfxProgram projects can be downloaded in batch to multiple controllers, for greater time savings. Batch firmware update can also be performed on multiple controllers.
Allure™ Series Communicating Sensor Support
These controllers work with a wide range of sensors, such as the Allure Series Communicating Sensors that are designed to provide intelligent sensing and control devices for increased user experience and energy efficiency.
Lights, Blinds and Air Temperature. Our extensive range of HVAC controllers covers all aspects of  system and equipment applications, from single controllers to wall fitted thermostats.