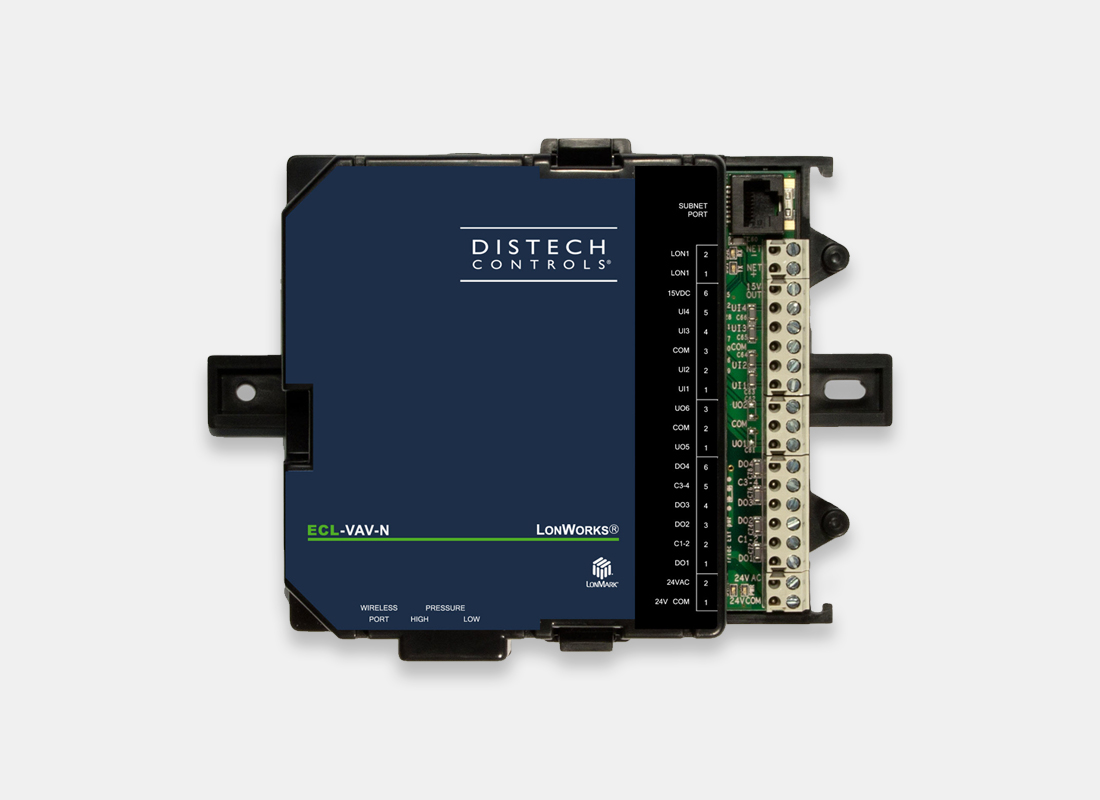 ECL VAV
The ECL-VAV Series controllers are microprocessor-based programmable variable air volume (VAV) controllers designed to control any vari-able air volume box.
These controllers meet the requirements of the following applications: Cooling Only VAV Boxes, Cooling with Reheat VAV Boxes, Parallel Fan VAV Boxes, Series Fan VAV Boxes and Dual-Duct VAV Systems
Protocol
These controllers use the LonTalk® communication protocol and are LonMark certified.
Flexible Inputs and Outputs
This controller has various input types including resistance, voltage, and digital-based ones. Moreover, it provides digital, floating, pulse width modulation, and proportional control outputs for valves, heating elements, fans, and lighting applications. This controller covers all industry-standard HVAC unitary applications.
Highly Accurate Universal Inputs
Highly accurate universal inputs support thermistors and resistance temperature detectors (RTDs) that range from 0 Ohms to 350,000 Ohms, as well as support for inputs requiring 0 to 10VDC or 0 to 20mA with an external resistor. This provides the freedom of using your preferred or engineer-specified sensors, in addition to any existing ones.
Rugged Inputs/Outputs
Rugged hardware inputs and outputs eliminate need for external protection components, such as diodes for 12V DC relays.
Preloaded Applications
Factory preloaded applications allow these controllers, straight out of the box, to operate standard VAV equipment with a proven energy-efficient sequence of operation thereby eliminating the need for programming. The preloaded application can be selected using an Allure ECSmart-Vue sensor even before the network has been installed for rapid deployment or through the EC-NetAX™ solution using Distech Controls' dcgfxApplications.
Integrated VPACC
Integrated VAV Performance Assessment Control Charts (VPACC) control sequences, provides a means of automatically detecting when the VAV is operating outside of its design parameters including: Persistent High/Low Space Temperature, Persistent High/Low Discharge Temperature, Persistent High/Low Air Flow, and Unstable Air Flow
Lights, Blinds and Air Temperature. Our extensive range covers all aspects of  room control and beyond, from single controllers to wall fitted thermostats.