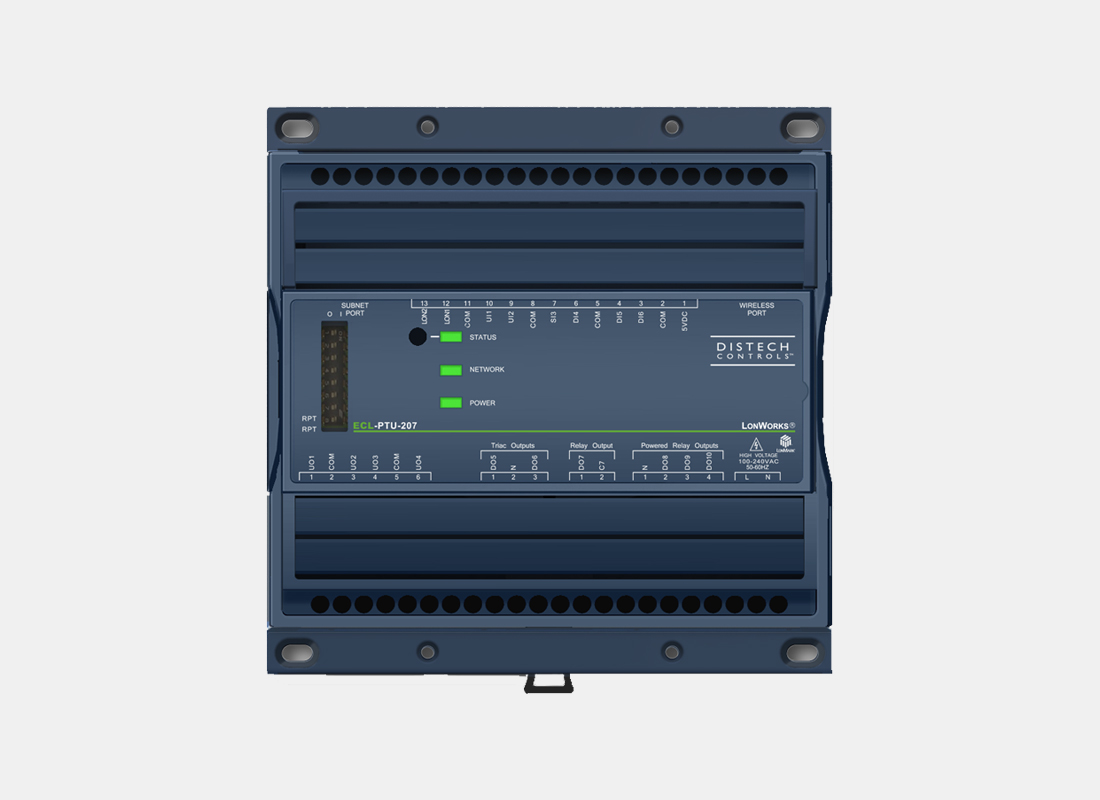 ECL PTU
The Distech ECL-PTU Series are microprocessor-based programmable HVAC controllers designed to control powered terminal units such as powered fan coil units, heat pumps units, and chilled beams.

These HVAC applications can also support various pipe configurations such as 4-pipe, 2-pipe, and 4-pipe and 1-coil using a 6-way valve.
Protocol
These controllers use the LonTalk® communication protocol and are LonMark certified.
LonMark® Certified Powered Terminal Unit Programmable Controllers
This series contains five models: ECL-PTU-107, ECL-PTU-207, ECL-PTU-208, ECL-PTU-307 and ECL-PTU-308. These controllers support various input types including resistance, voltage, pulse, and digital-based ones. Moreover, they provide analog, floating, and proportional control outputs for valves, electric heaters and fans.This series can control up to 8 lights and 8 shades / sunblinds through ECx-Light/Blind modules. These are expansion modules that operate off of a separate sub-bus, giving this controller the ability to manage lighting and shades / sunblinds for a full cross-management solution operating from a single network point.
ECL-PTU meets the requirements of the following applications:
Fan coil units
Heat pumps
Chilled beams
Reversible ceiling with 6-way valves
Lighting fixtures and shade/sunblind motors when associated to ECx-Light/Blind expansion modules.
Lights, Blinds and Air Temperature. Our extensive range covers all aspects of  room control and beyond, from single controllers to wall fitted thermostats.