Download



Want more information or alternatives to a product? Call us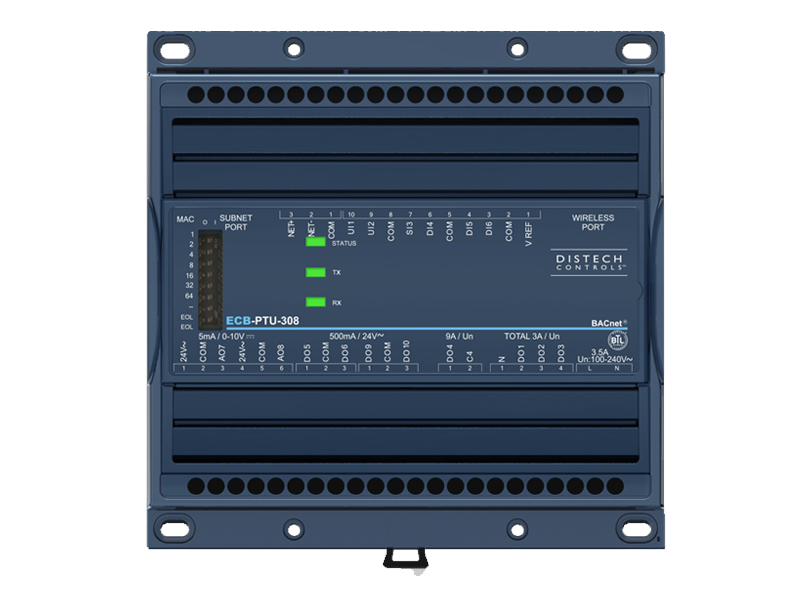 Distech Controls ECB-PTU

The Distech ECB-PTU Series are microprocessor-based programmable controllers designed to control powered terminal units such as powered fan coil units, heat pumps units, and chilled beams.
These HVAC applications can also support various pipe configurations such as 4-pipe, 2-pipe, and 4-pipe and 1-coil using a 6-way valve.
Protocol: BACnet® MS/TP LAN communication protocol
Product Description
ECB-PTU Series
BACnet® B-ASC Powered Terminal Unit Programmable Controllers
This series contains five models: ECB-PTU-107, ECB-PTU-207, ECB-PTU-208, ECB-PTU-307 and ECB-PTU-308. These controllers support various input types including resistance, voltage, pulse, and digital-based ones. Moreover, depending on models, they provide analog, floating, and proportional control outputs for valves, heating elements, and fans. This series can control up to 8 lights and 8 shades / sunblinds through ECx-Light/Blind modules. These are expansion modules that operate off of a separate sub-bus, giving this controller the ability to manage lighting and shades / sunblinds for a full cross-management solution operating from a single network point.
ECB-PTU meets the requirements of the following applications:
Fan coil units
Heat pumps
Chilled beams
Reversible ceiling with 6-way valves
Lighting fixtures and shade/sunblind motors when associated to ECx-Light/Blind expansion modules.
Preloaded Applications
Preloaded applications save setup time: One technician can locally configure and troubleshoot the controller with an Allure EC-Smart-Vue sensor without any need for a programming interface.
Digital Outputs
Powered digital outputs allow for direct connection of controlled loads to save installation time and wiring costs
Expandable
Expandable with lighting and shades / sunblinds expansion modules that enable smart cross-management of HVAC, lighting, and shades / sunblinds to build the Integrated Room Control Solution
Optional Wireless Receiver
Available with an optional Wireless Receiver that supports up to 24 wireless inputs, letting you create wire-free installations and use various wireless battery-less sensors and switches
Protective Block Cover
Optional strain relief and terminal block covers provide enhanced electrical protection that can reduce installation costs by eliminating the need for a protective enclosure (when allowed by local regulations)
Low Power Consumption
Optimized hardware design has ultra-low power consumption
24 VAC Power Supply
Some models have a 24 VAC power supply that can be used to power analog input damper and valve actuators thereby eliminating the need for a transformer
You might also like