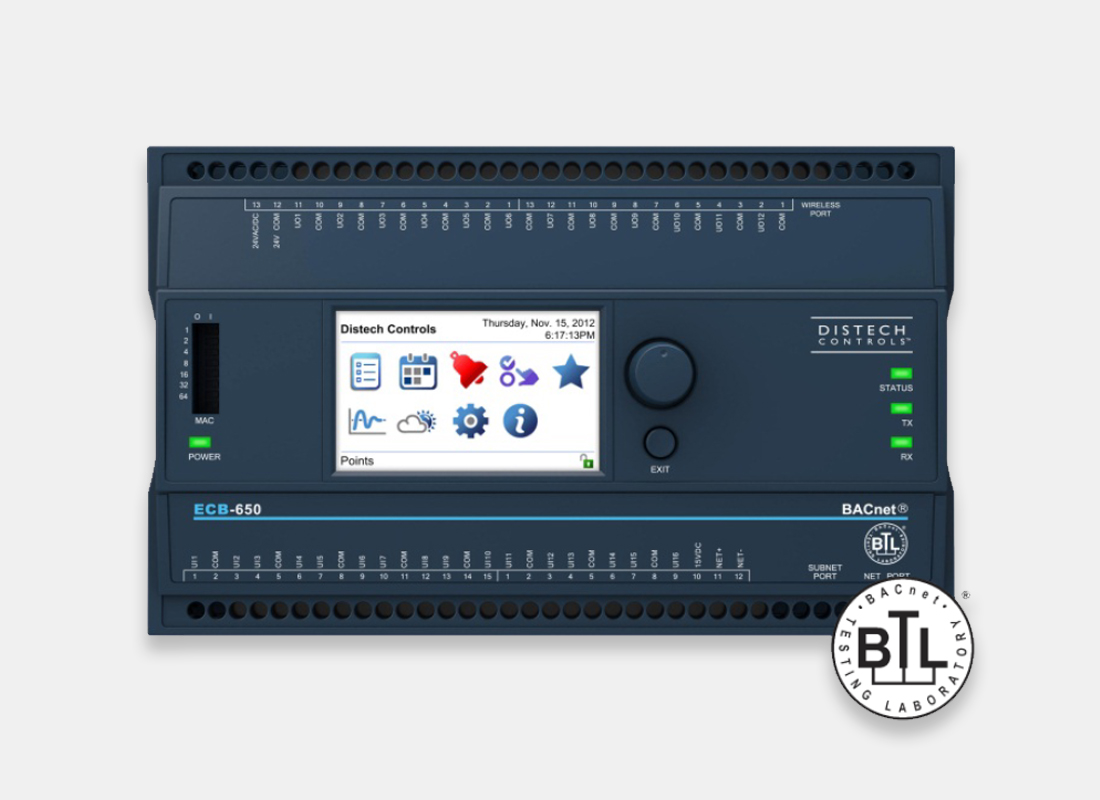 Distech Controls ECB 650
The Distech Controls 650 is a BACnet programmable controller with LCD Display for large sized AHU and medium/large plant applications with 16 UI and 12 UO.
Expandable with expansion modules up to 76 points.
Protocol
These controllers use the BACnet® MS/TP LAN communication protocol
Flexible inputs and outputs that cover all industry-standard medium to large HVAC applications. Supports up to two ECx-400 series I/O modules giving the controller a maximum of 40 UI and 36 UO. Supports Distech controls EC-gfx Program which allows you to visually assemble building blocks together to create a custom control sequence for any HVAC / building automation application. Comes with LCD screen and a jog dial for turn and select navigation to access a wide range of internal controller functions.
ECB-650 Technical Data
I/O
16 universal hardware inputs
12 universal outputs
Voltage Range
24VAC/DC; ±15%; Class 2
Frequency Range
50/60Hz
Overcurrent Protection
Field replaceable fuse
Fuse Type
3.0A
Power Consumption
25 VA typical plus all external loads, 68 VA max
Communication Bus
BACnet MS/TP
BACnet Profile
B-AAC
EOL Resistor
Built-in, jumper selectable
Baud Rates
9600, 19 200, 38 400, or 76 800 bps
Addressing
Dip switch or with an Allure EC-Smart-Vue Series Communicating Sensor
Processor
STM32 (ARM Cortex™ M3) MCU, 32 bit
CPU Speed
72 MHz
Memory
1 MB Non-volatile Flash (applications)
2 MB Non-volatile Flash (storage)
96 kB RAM
Real Time Clock (RTC)
Built-in Real Time Clock with rechargeable battery
Network time synchronization is initially required
RTC Battery
20 hours charge time, 20 days recharge time
Up to 500 charge/discharge cycles
Status Indicator
Green LEDs: power status & LAN Tx
Orange LEDs: controller status & LAN Rx
Communication Jack
BACnet 1/8″ (3.5mm) stereo audio jack
Communication
RS-485
Cable
Cat 5e, 8 conductor twisted pair
Connector
RJ-45
Connection Topology
Daisy-chain
Maximum Number of Allure Series Communicating Sensors combined
12
Environmental
Operating Temperature 32°F to 122°F (0°C to 50°C)
Storage Temperature -4°F to 122°F (-20°C to 50°C)
Relative Humidity 0 to 90% Non-condensing
Lights, Blinds and Air Temperature. Our extensive range covers all aspects of  room control and beyond, from single controllers to wall fitted thermostats.