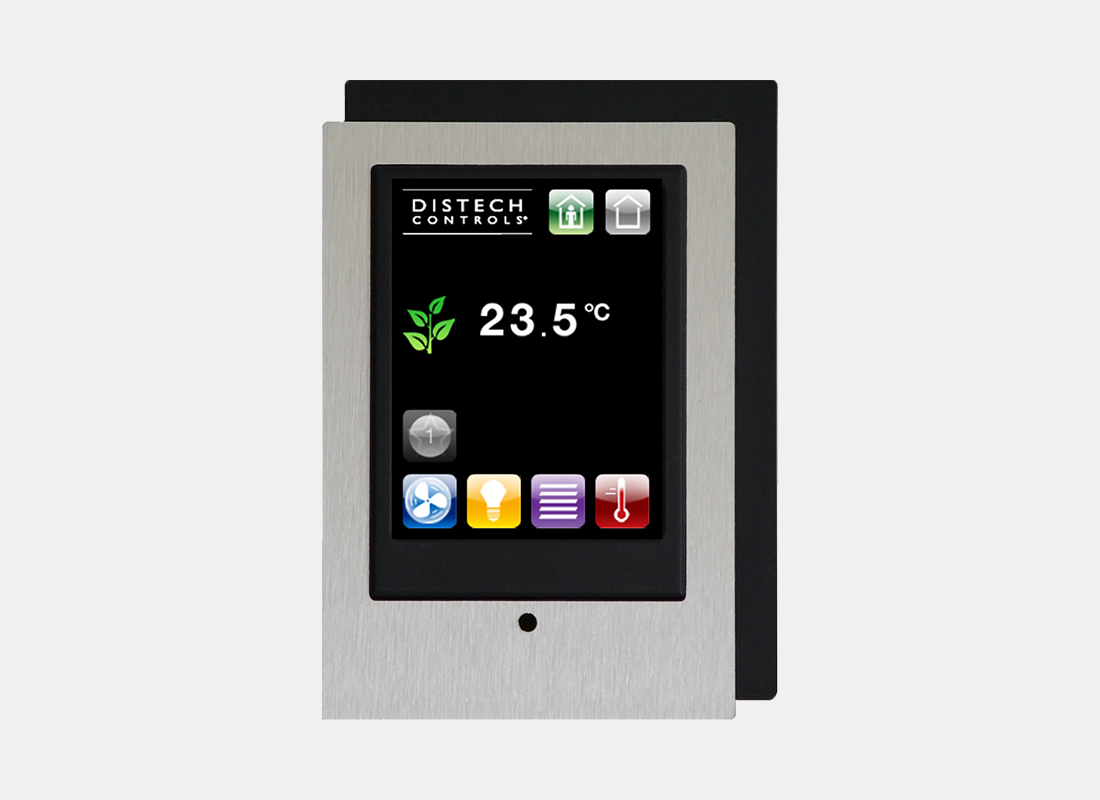 Allure RS Smart Sense
The Distech Controls Allure RS-Smart-Sense room sensor, with its touch sensitive colour display, offers a user-friendly interface that provides immediate and easy control of each space comfort parameter.
Take control of lighting, temperature, sunblinds, and fan speed while providing instant access to four predefined scenes.
Customisation
Available in two colours: ivory or black with a brushed aluminum style front plate

These integrated scenes can be easily assigned to recall specific settings or preferences in a room or office space.
Overview
An integrated sensor automatically regulates the Allure RSSmart-Sense sensor backlight intensity depending on the room's ambient luminosity while discretely providing the utmost reading comfort. The innovative ECO-Vue™ leaf pattern graphically indicates the impact of the user settings on the global building energy efficiency to encourage the occupants to follow the supervisor's recommendations.
A password protected technician mode allows the integrator to perform commissioning, basic settings, and troubleshooting. For example, it can be used to set the controller's BACnet MAC address during commissioning when the Allure RS-Smart-Sense sensor is connected to a BACnet compatible controller.
The Allure RS-Smart-Sense sensor is designed to interface with Distech Controls' RCL/RCB-PFC Series controllers, RCLLight/Blind series controllers, and the RCL-ITR LONWORKS interface. Connection is made through a plug and play RJ9/RJ9 cable (not included).
The Allure RS-Smart-Sense room sensor provides precise environmental zone control for temperature, fan speed, lighting, and sunblinds with the following controller applications:
Fan coil units
Roof top units
Heat pumps
Unit ventilators
Lighting and sunblind applications
Real-Time Control
The full color, touch sensitive color screen and intuitive interface provides real-time control of temperature, fan speed, lighting, sunblinds, and occupancy management
Storage for Instant Access
Up to four scenes stored for instant access to favorite comfort parameters
Customization
Customizable icons and different types of front plates (brushed aluminum and glossy black, or brushed aluminum and ivory) to fit any project and suit aesthetic needs of architects and building owners
Backlight Dimming
Screen backlight dimming adjusts automatically to the room's ambient light
Occupancy control
Occupancy control to extend system's normal operating hours provides increased flexibility
Single Cable
A single plug and play cable to connect both power and communication for easy installation and system retrofit at reduced costs (RJ9 connection).
Lights, Blinds and Air Temperature. Our extensive range covers all aspects of  room control and beyond, from single controllers to wall fitted thermostats.